23 clever tips to make your tiny living room look bigger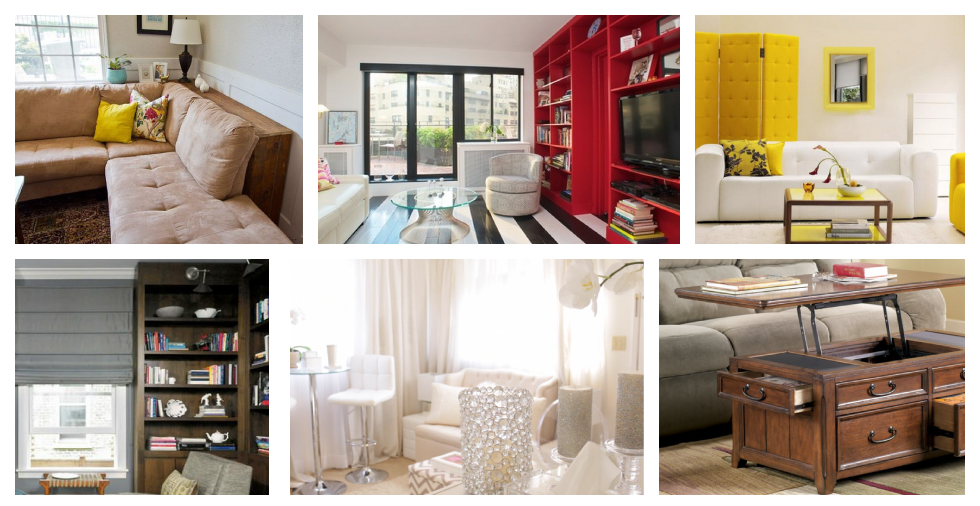 If you've got a small living room and you wish it were bigger, don't worry, we've got some lovely tips for you to help you make it look more spacious.
Before you continue, sign up to our newsletter to get great home hacks, living tips, competitions, offers and more.
1. Lightweight fabrics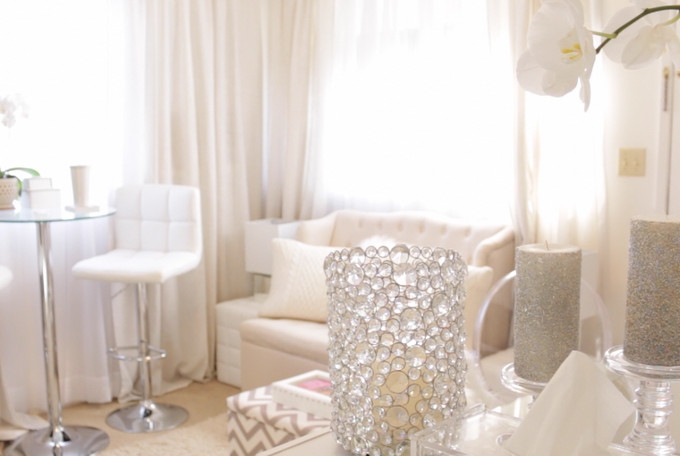 Avoid heavy materials that can weigh your room down by absorbing light. Choose light-weight material around your living room, such as light linen curtains to help it feel the room feel airy.
2. Striped floor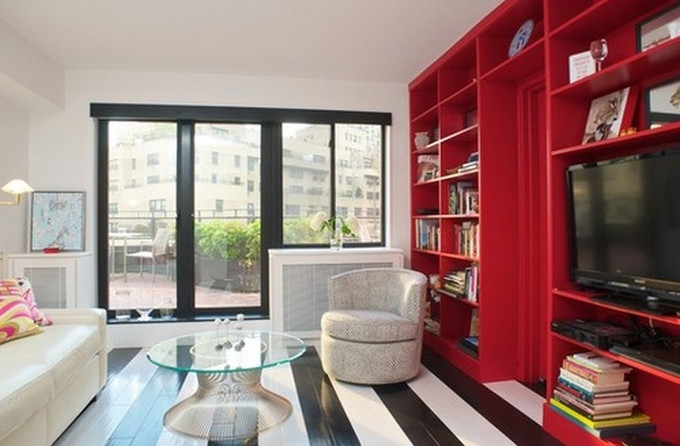 If you're daring, consider having a striped floor. This will make your room look like it longer than it really is - magic! Go for black and white for a really striking effect.
3. Choose cool colours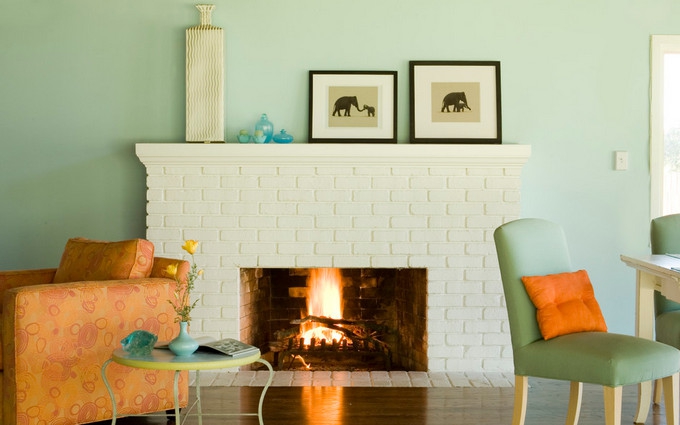 White rooms tend to look the largest, but if this doesn't feel like your cup of tea, choose light greens and blues to brighten up your living room. Your room will feel instantly more spacious.
4. Be shelf-smart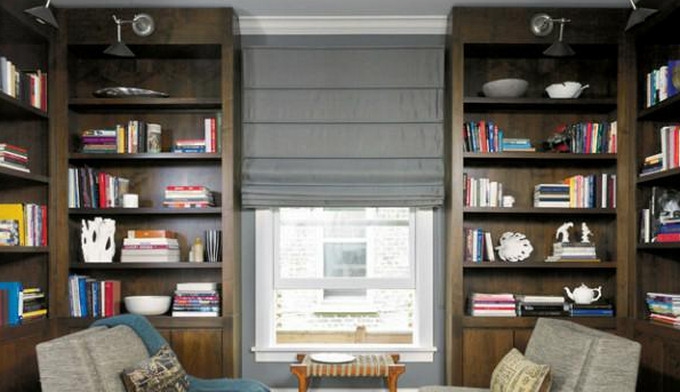 Don't fill up all your shelves. Leave some empty spaces to create an airy look. If you have lots of books you need to house, pick floor-to-ceiling bookcases as this will make your ceilings look higher.
5. Keep curtains & wall the same colour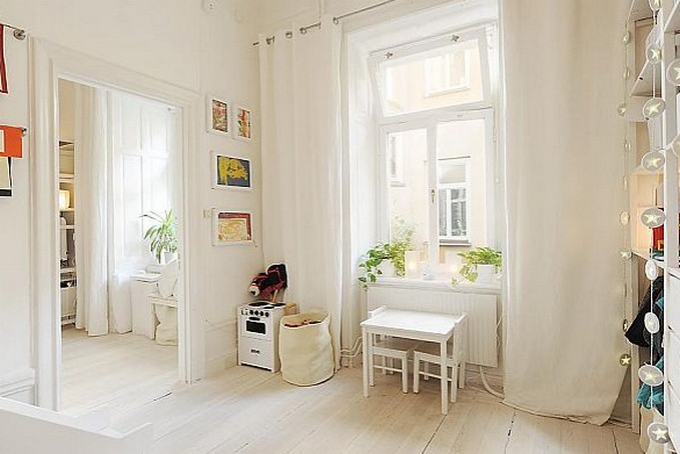 Create a feeling of space by choosing the same colour for your curtains as you have your walls. The room will ooze simplicity, or if you want to go to the whole hog...
6. Clean your windows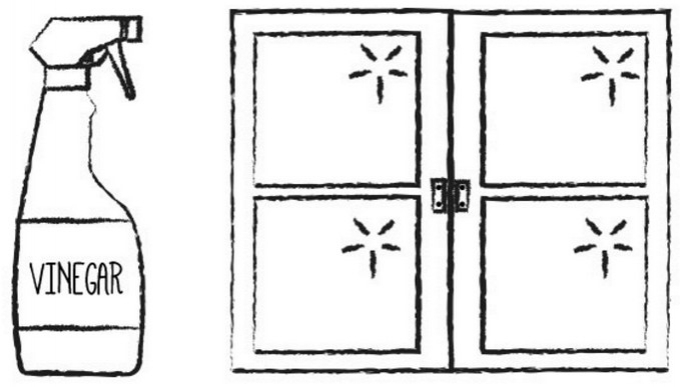 Keep your windows clean as dirty windows can distract the eye and prevent the light from coming in. Make sure the glass is clean, inside and out. For a cheap option, fill a spray bottle with white vinegar, and dry using an old newspaper. For more tips like this, check out 21 surprising uses for vinegar.
7. Pick monochromatic colours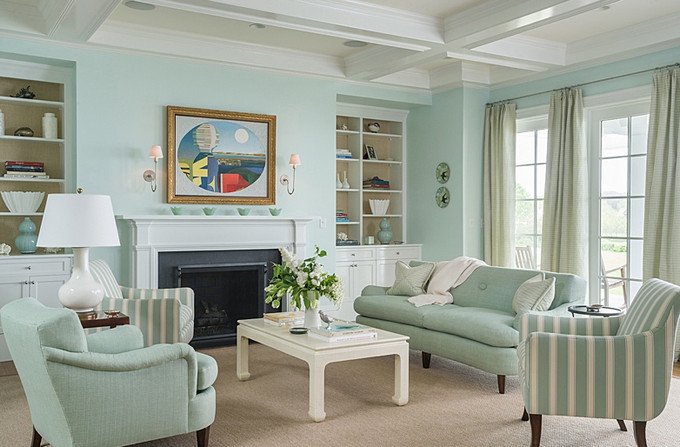 When it comes to your furniture, soft furnishings, fittings, ornaments, curtains and carpets - pick different shades, hints and tones of a single hue. This colour scheme is easy on the eyes, so you'll be able to take in the whole room without being interrupted by other colours.
8. Keep your floor visible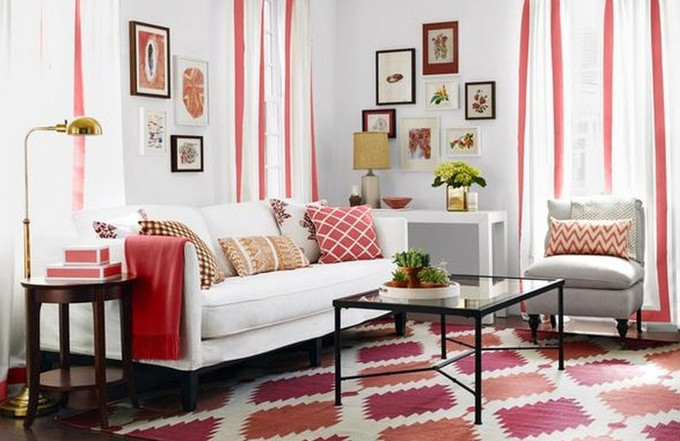 Have a clear floor as much as possible by choosing sofas and TV stands with legs. Your room will feel instantly more open. Glass coffee tables will also be a great idea as the light will be filtered through to the floor.
9. Clear clutter
There's nothing worse than a build-up of clutter to leave your living room feeling small. Get back that calm and order by following Anushka's Declutter Your Home: 7 stress-free ways to do it now. You'll have less to clean and less to worry about.
10. Paint in dark to light, from low to high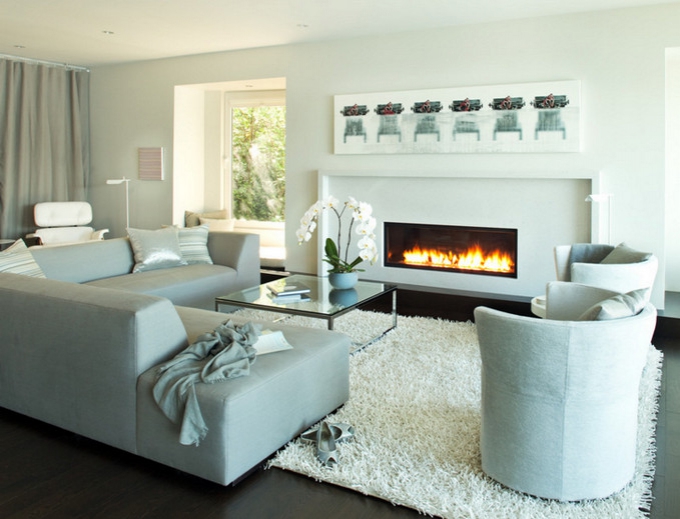 If your floor is dark then paint your ceiling in a light shade. This will give the illusion of space as your eye will be drawn upwards.
11. Give your sofa some space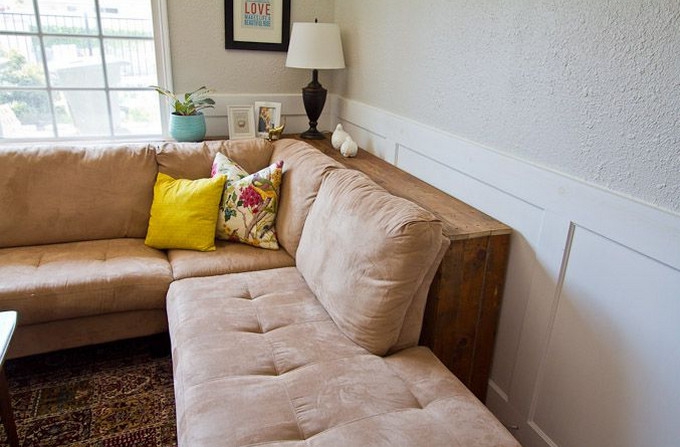 If you have the room, pull your sofa away from the wall slightly. It will create breathing room and make the space seem larger from the shadows created behind it.
12. Draw the eye to corners of the room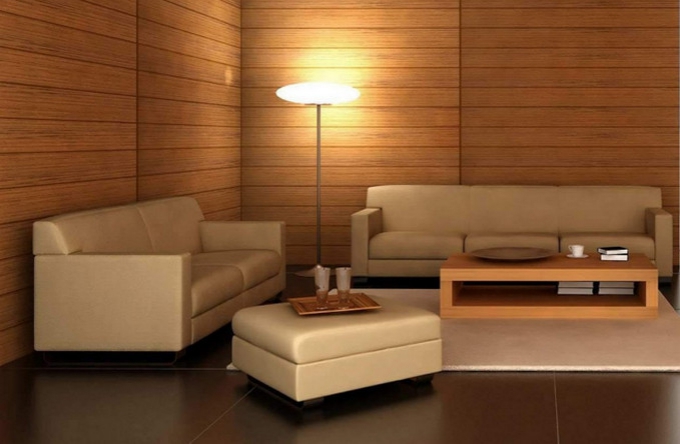 Tall pieces of furniture such as bookcases and tall floor standing lights also belong in the corners - your eye will find this easier to take in. Don't hang lots of paintings together. This will make your wall feel congested. Hang paintings near to the corners of the room to draw the eye.
13. Mirror, mirror, on the wall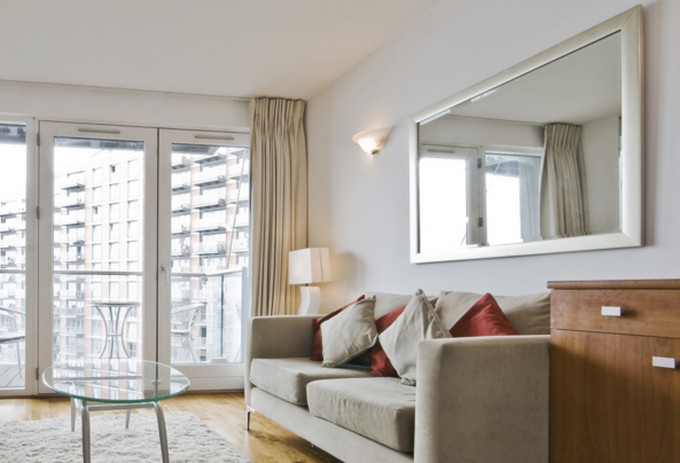 Most people know that a mirror will help make any space look larger. There are different ways to implement this strategy in your living room. A large mirror is the ideal way to make you living room look huge, but they tend to be expensive. Try grouping smaller mirrors together on a wall and paint the frames in the same colour to create uniformity. If you have a skinny mirror, try turning it on its side and hanging in your living room.
14. Draw the eye to an accent piece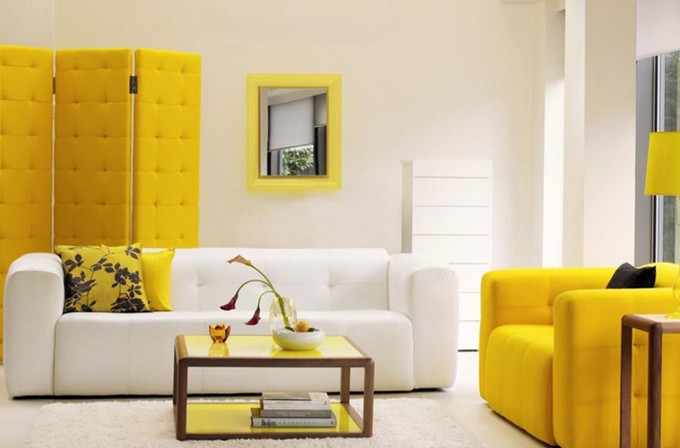 Choose a point the longest view away from the door and put an accent piece in it. Whether it's an ununusual ornament or an interesting plant, your eye will be drawn to it and this will make your living room appear larger.
15. Multi-purpose furniture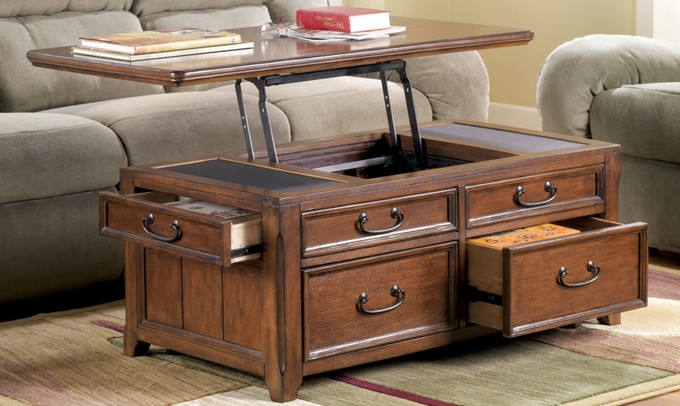 If you've got a small living room then one of the problems is storage. Pick out dual-use furniture to help you with this, such as an ottoman you can use as a storage space, seating and a table!
16. Wall lamps & book shelves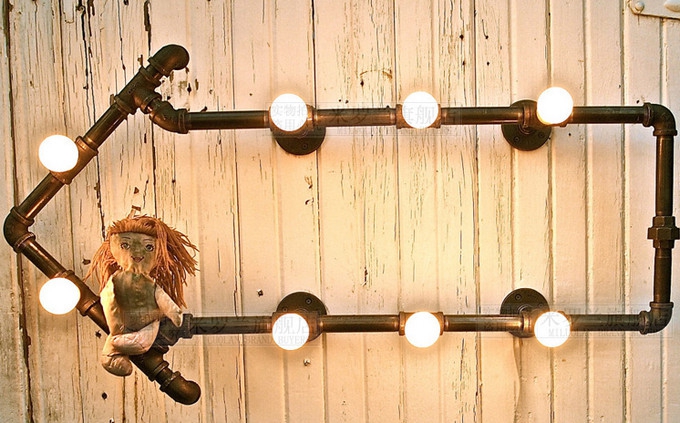 Save floor and surface space by choosing a wall-mounted lamp, rather than floor or tables-standing. Try mounted shelves instead of bookcases to give yourself more room underneath and utilise your storage space.
17. Rug decisions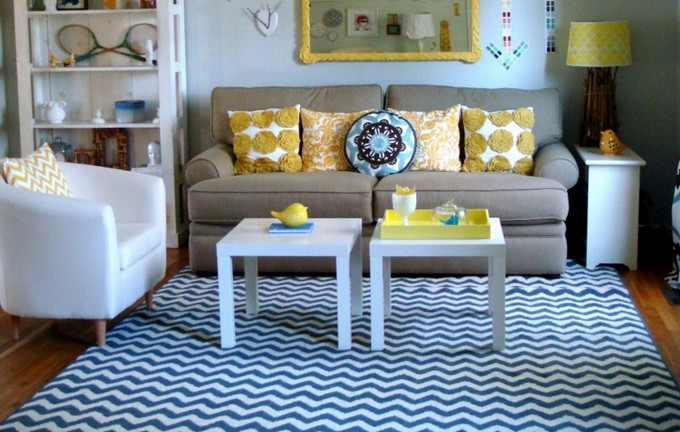 When rug shopping, choose a pattern with small repeats to help make your living room look bigger. Create the appearence of having a larger living room by using different rugs underneath different pieces, such as a rug under your coffee table and another rug underneath an armchair.
18. Clever lighting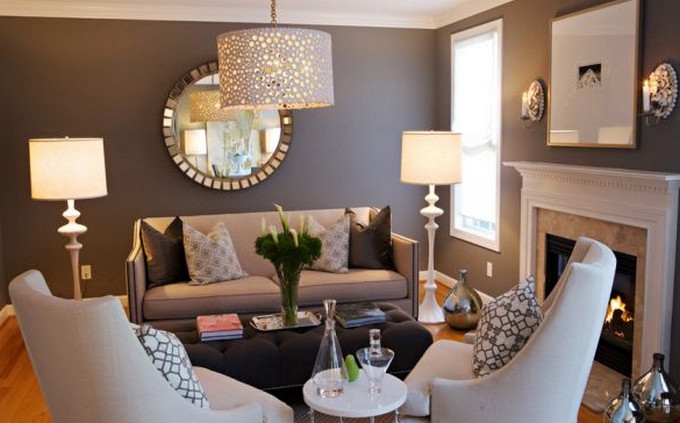 Overhead lights will draw the eyes to one spot. Arrange different lighting options dotted around the room, such as lamps on the wall, candles and tiny table lamps.
19. Pick the right dining table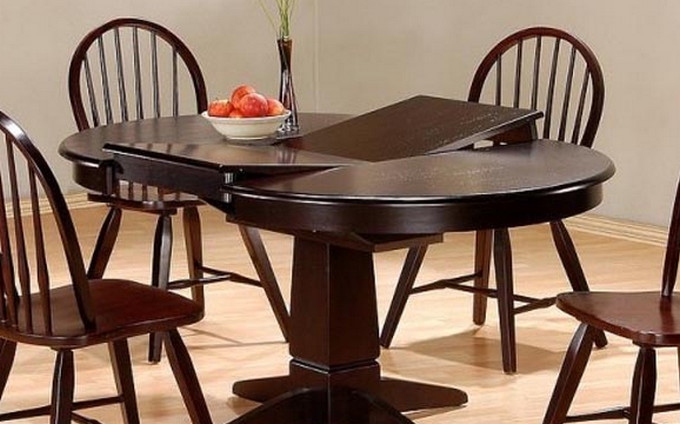 If you're lucky enough to be able to fit a dining room in your table, choose one with removable leaves, or drop leaves so you can make the most of the space you have.
20. TV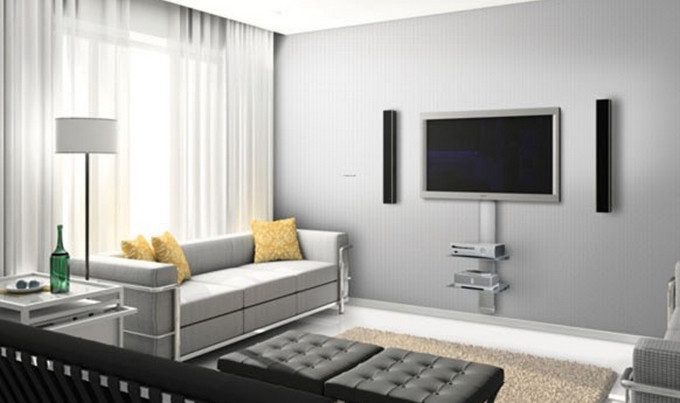 If you've got a small living room, then consider mounting your television. This way you'll be able to free up floor space. A floating shelf placed just underneath is a great option for any television boxes or DVD players than need to be close by.
21. Long curtains, higher ceilings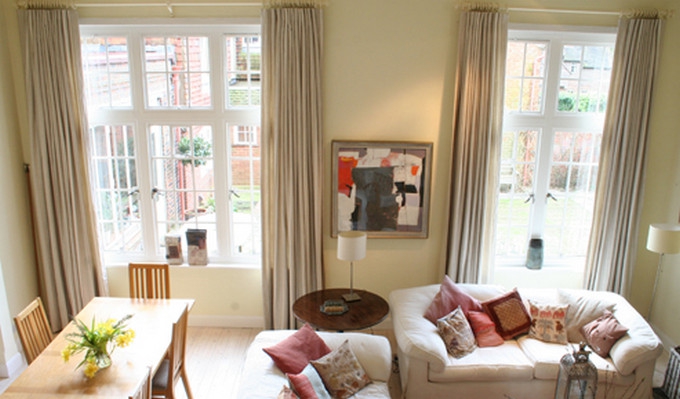 Mount the curtains near to the ceiling and have extra-long drapes. This will make the ceiling look higher, and the room appear taller.
22. Remove the door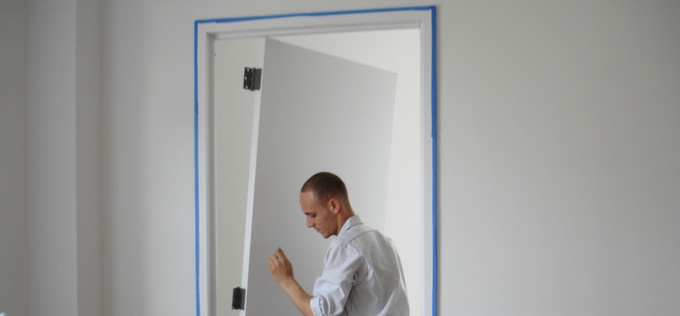 While this may seem drastic, removing the door to your living room will allow you more wall space to store items or hang photos. If you need to, hang a curtain across, which you can pull closed when needed.
23. Go retro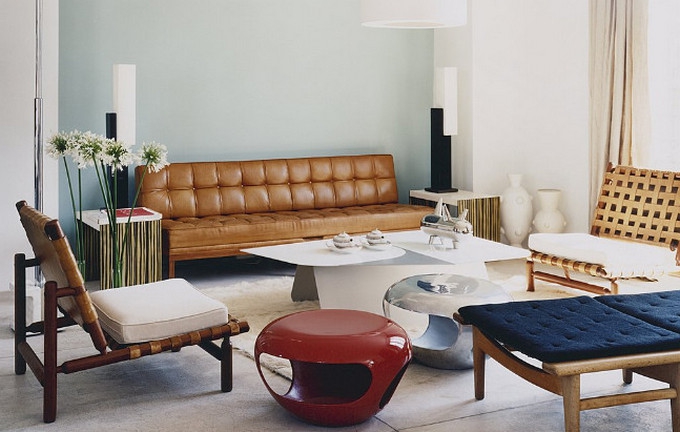 When choosing furniture, think about going retro. Vintage inspired appliances and furniture have a smaller footprint, so will give you more area to work with.
If you've enjoyed this article, please share it with your friends! We're trying to spread the word of Expert Home Tips - thank you!
Hope you've enjoyed these tips! If you've got a tip for those with small living rooms, let us know in the comments below...