23 smart space-saving ideas for your tiny bedroom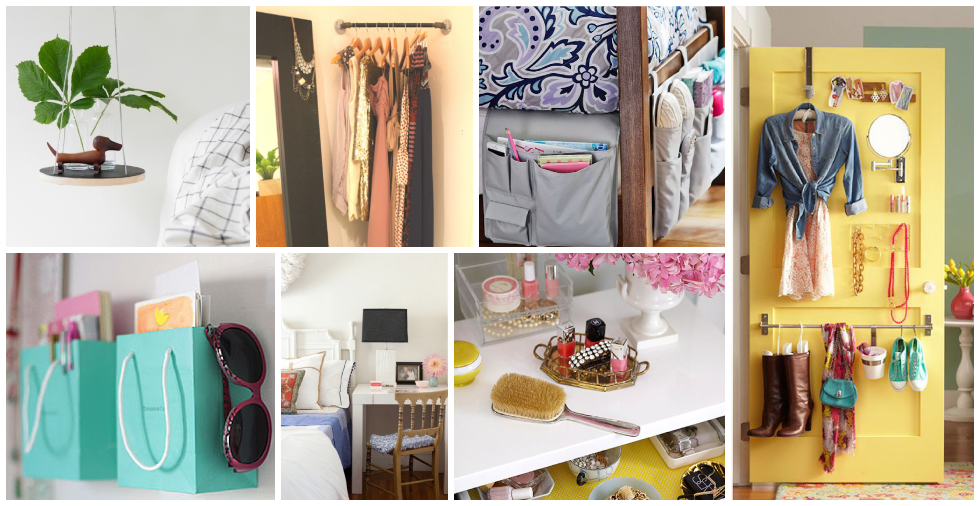 A small bedroom doesn't have to be cramped and messy, oh no, if you make good use of every nook and cranny you'll be surprised at how pretty and easy life can be in a tiny space. Check out these 21 hacks that are simple to do and can be adapted to any space in your home...
Before you continue, sign up to our newsletter to get great home hacks, living tips, competitions, offers and more.
Don't forget to follow us on:
Thanks!
Hang your bedside table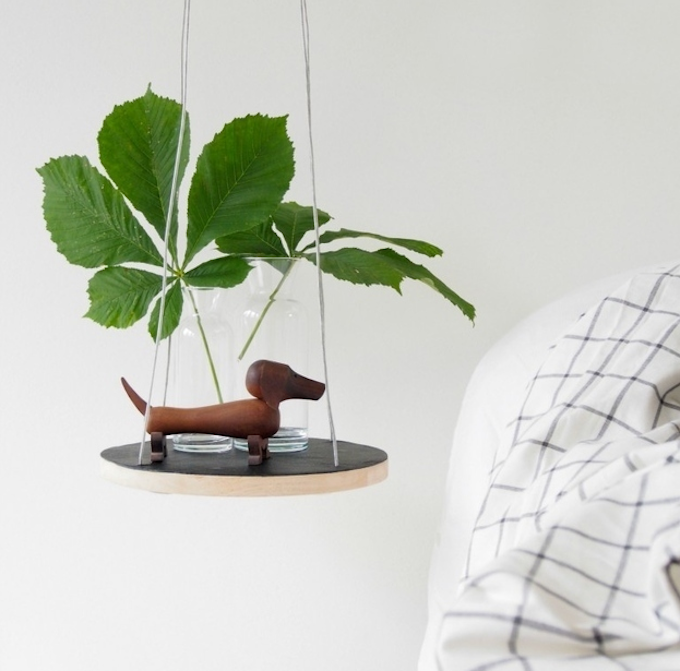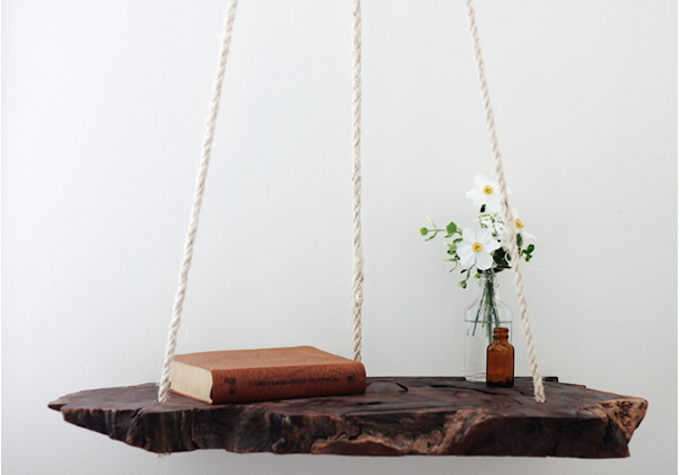 No space for that essential bedside table or console? Hang a suspended shelf using wire or rope. For inspiration check out the Decorators Notebook. This is also a fantastic idea for your living room, for more ideas check, out these 23 clever tips to make your living room look bigger.
2. Corner shelves are your friend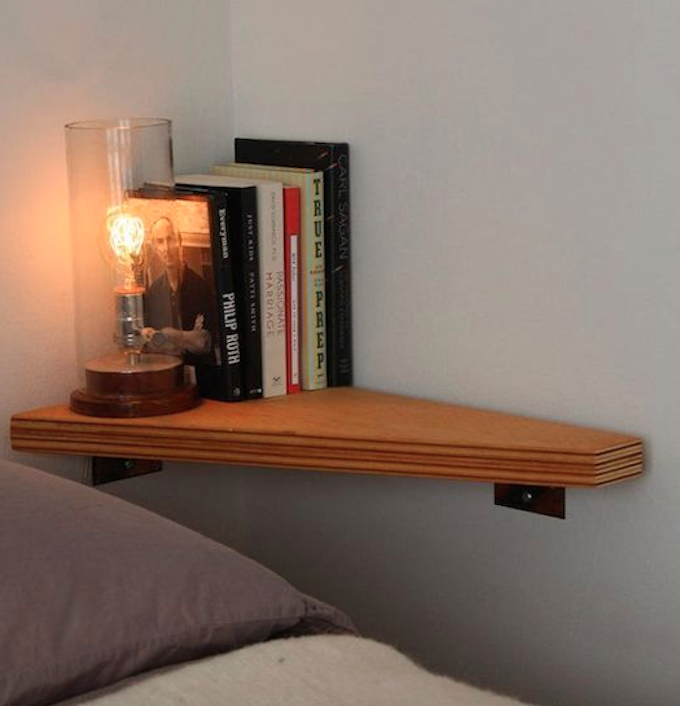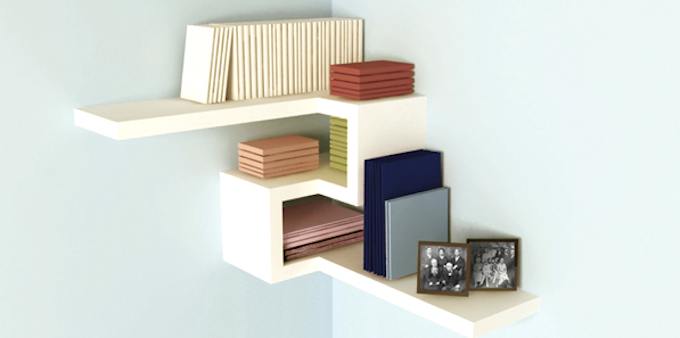 A little shelf action will surprise you. Even a small, narrow shelf can hold a few of the bedside essentials like phone, books, night light, candles and more.
3. Use every inch of space to hang clothes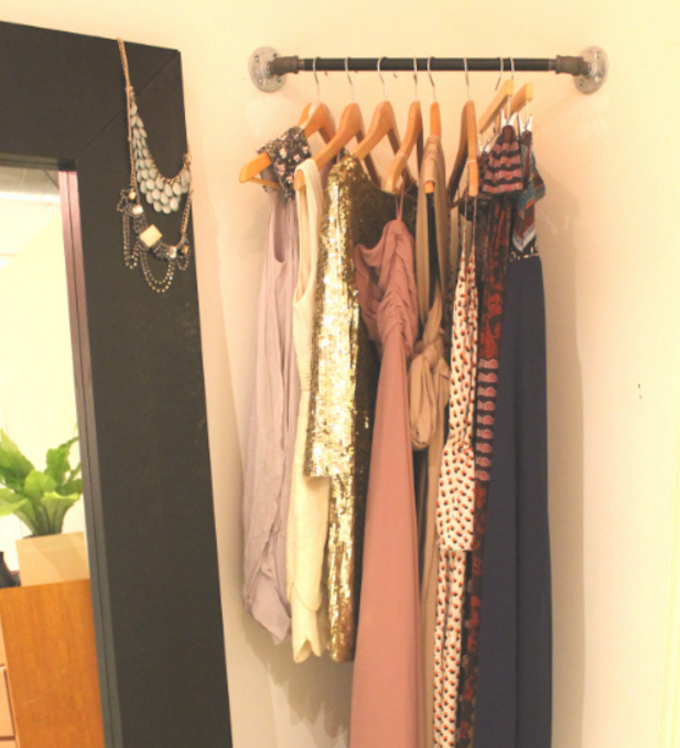 Got a work wardrobe or uniform? Hang your day-to-day work essentials on a mini rail and clear space in your wardrobe for shoes and bags. This works wonderfully in a spare nook or corner of your bedroom, and even saves you time in the mornings! For more time saving hacks, take a look at our article: 45 time-saving hacks for a more relaxed you.
4. Tuck your bed into a nook or cranny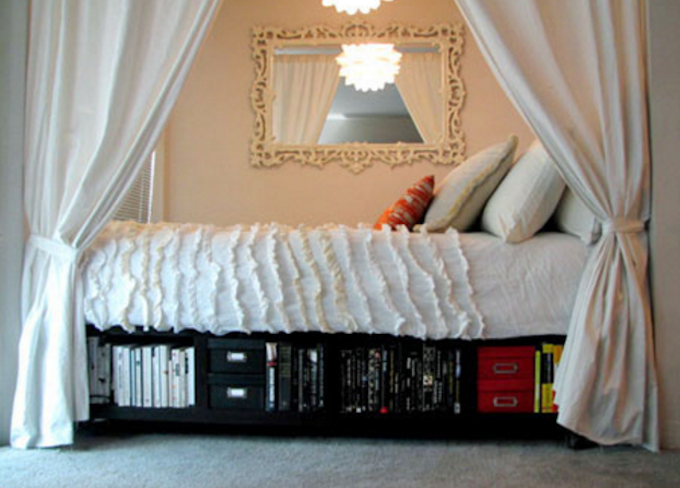 The easiest way to maximise your space is to tuck your bed into a corner or alcove. Try every different angle, even if both ends are between two walls - if it fits, it sits. For more small home hacks, read out 10 ways to make a room look bigger.
5. Hang your clothes to make a focal point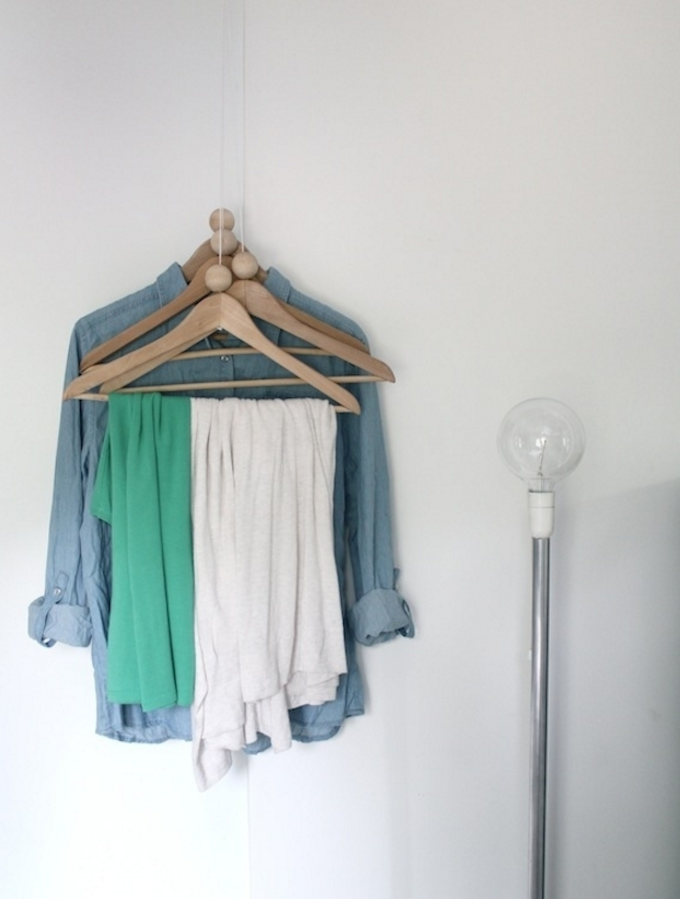 It's so quick and easy to attach ceiling hooks and hang your clothes hangers to spectacular effect. It's a smart way to hang up your week day wardrobe and looks pretty nice too.
Need to hang something? Don't miss this DIY Cheat: How to drill holes in the perfect place, every time.
6.Make a floating desk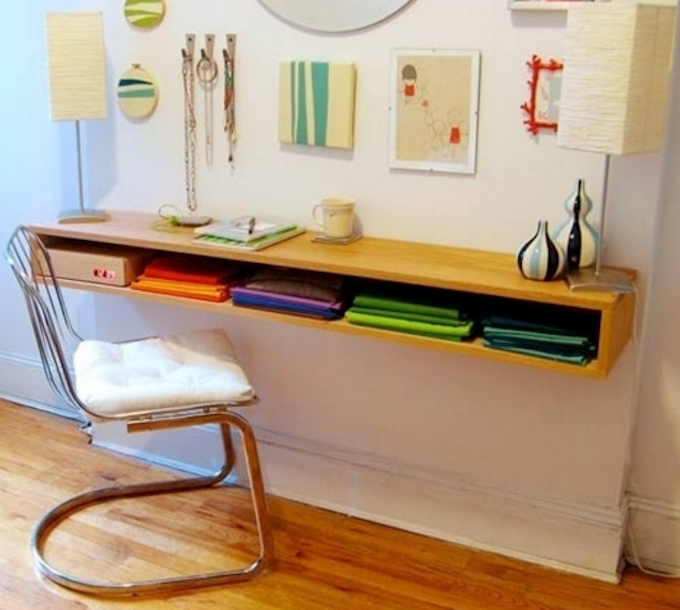 Have you ever noticed how many desks or consoles in hotel rooms are wall-mounted? Legs take up a lot of space so to maximise the floor area they use floating desks. If you attached a strong shelf it can be used as a bedside table, dressing table and more. Check out Brit+co for 22 space-saving desk ideas.
7. Double your desk up as a bed side table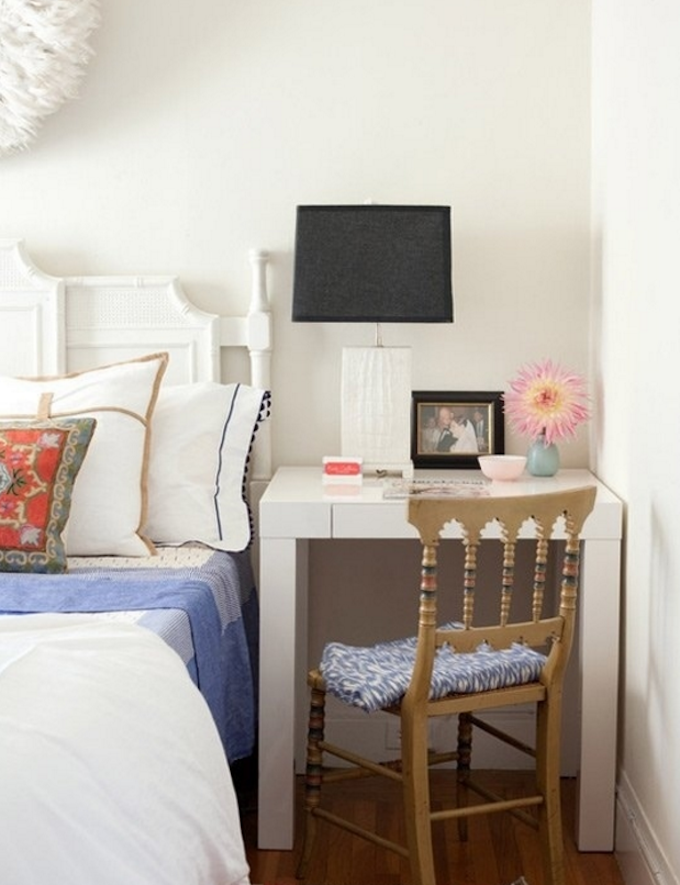 If you only require a desk occasionally or don't have room for a standard size, use a small table as a bed side table. You can pop a stool or pouffe underneath it to use when it's needed for a table. IKEA have a great selection of stylish yet affordable side tables.
8. Purchase cheap bedside organisers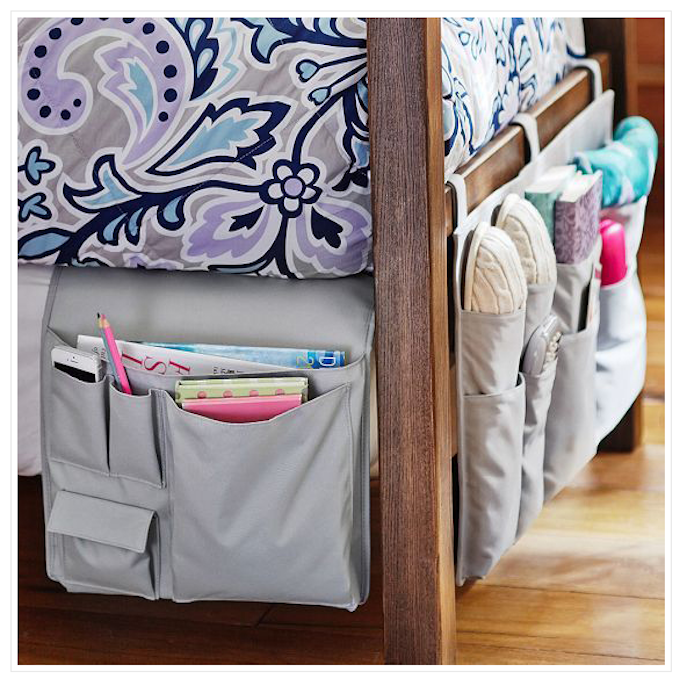 If you do one thing from this list, make sure it's this one. You can get a 5 pocket Bedside Caddy Organiser for just £5.96 from Amazon. they hand underneath your bed and can hold all those bits and bobs - magazines, socks, books etc.
For more clever cleaning and organising tips for a blissful bedroom, read Colleen's 19 tips.
9. Don't ignore the space behind your bedroom & wardrobe doors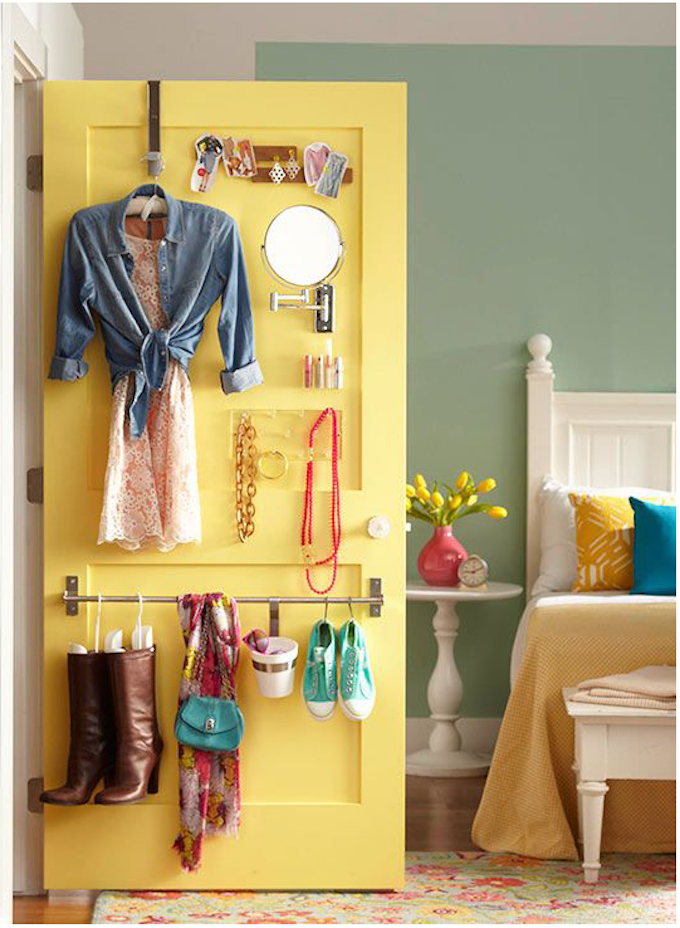 From hanging rails to a multi-purpose coat hooks and a mirror, there's almost nothing you can't screw to the back of your wooden bedroom or wardrobe door.
10. A little ledge goes a long way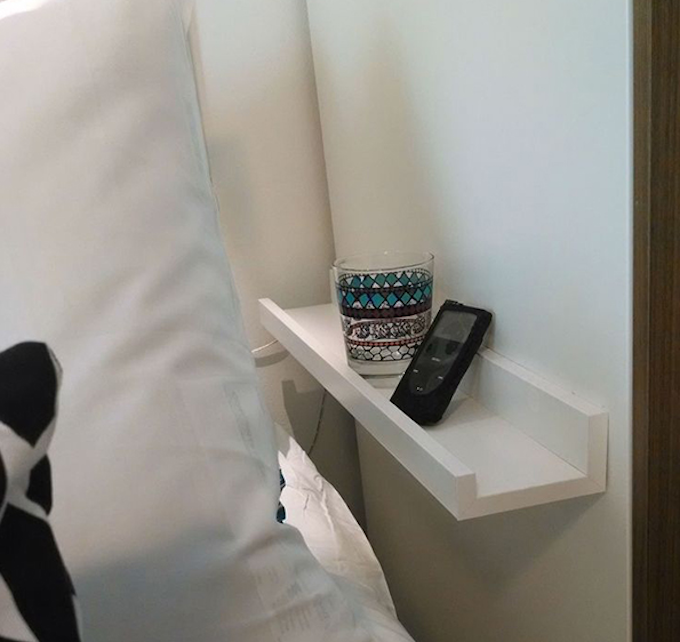 I don't have any space on either side of my bed for a side table which means I am forever knocking over glasses of water that I leave on the floor. If you're in the same predicament then check out this neat ledge. It's small in size but keeps those essentials off the floor.
11. Keep your drawers super organised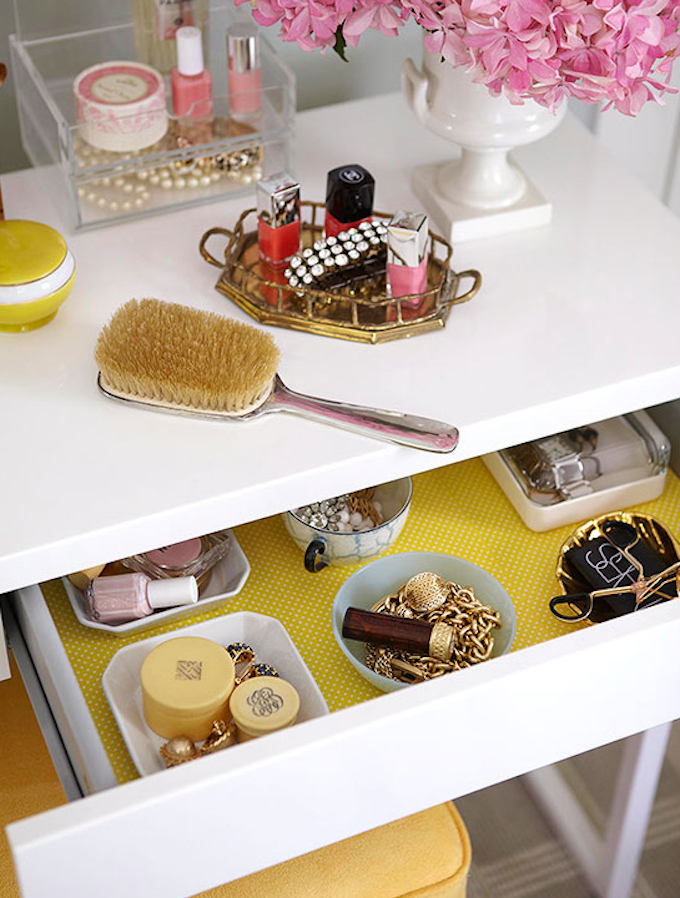 Clutter on your space surfaces can make a small bedroom feel even smaller. Try to keep them clear to create the illusions of endless space by keeping bowls of your tiny items safely tucked away in drawer.
12. Hang a floating shelf with spotlights to beautiful effect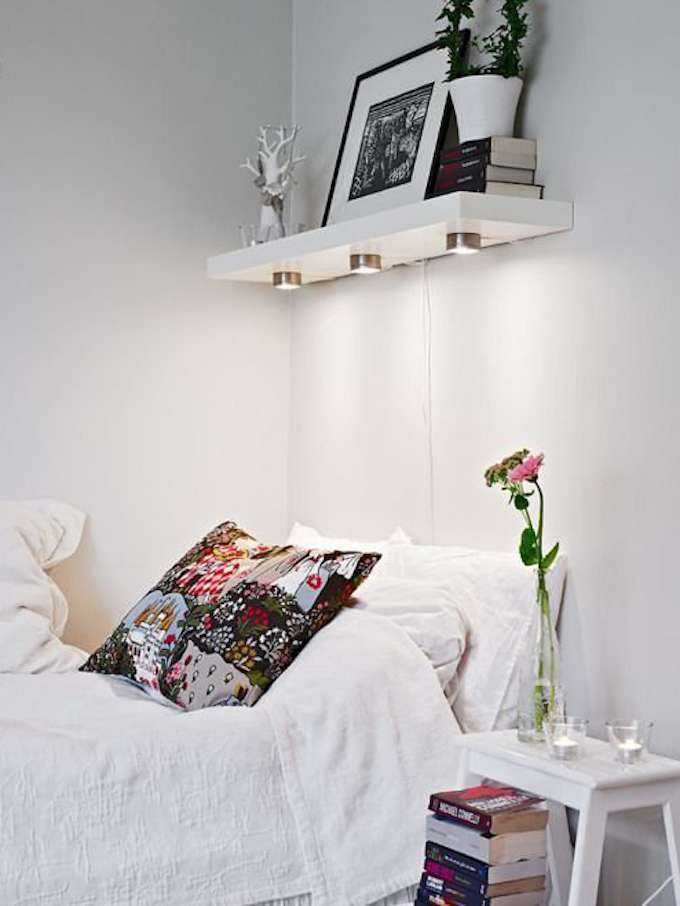 If you don't have space for a bed side table, put up a floating shelf above your pillows and attach spotlights from it. You get shelf space, a bedside table of sorts and lighting - 3 in 1! This fantastic idea can be achieved with little effort and can all be bought from IKEA.
A bed side or shelf lamp can help you create a relaxing bedroom, make sure you check out these 17 genius products for a good night's sleep, too.
13. Make your own homemade pinboard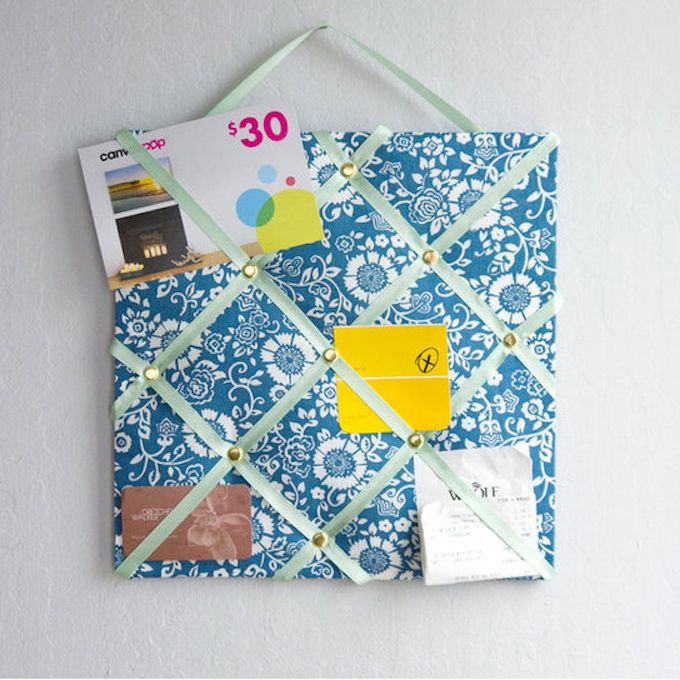 A Pinterest favourite! You can create this beauty in just half and hour and it's the perfect place to pop in those coupons, letters, important letters and reminders that so often just get left on the side.
14. Make a phone charging caddy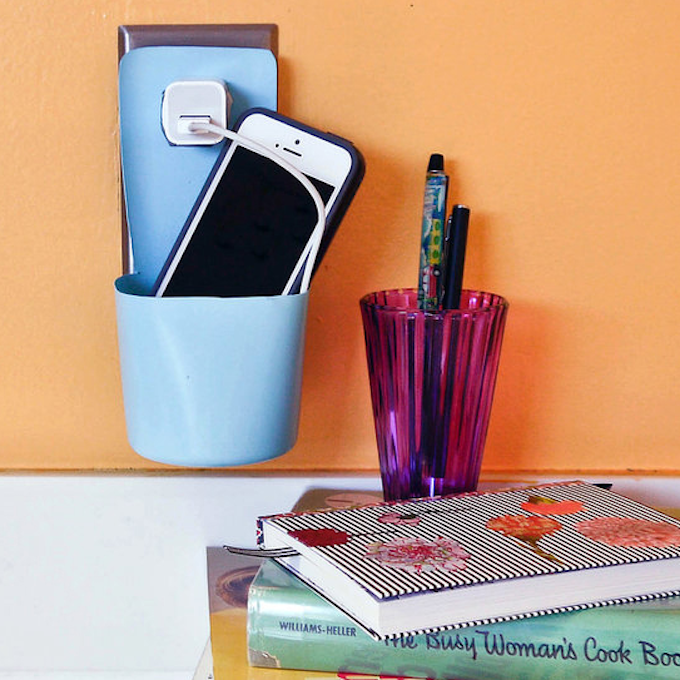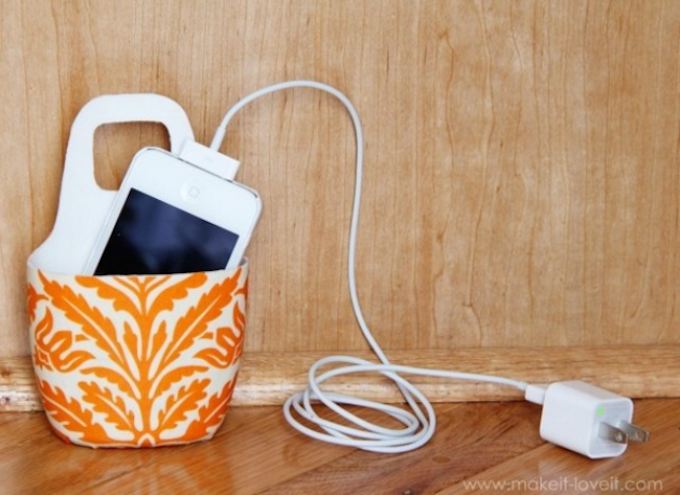 The phone charger is out on display a lot of the time, so keep those wires out of sight with a handy mobile phone caddy. Learn how to make one with just a plastic lotion bottle at Huffington Post.
15. Hang your bags on a vertical coat hook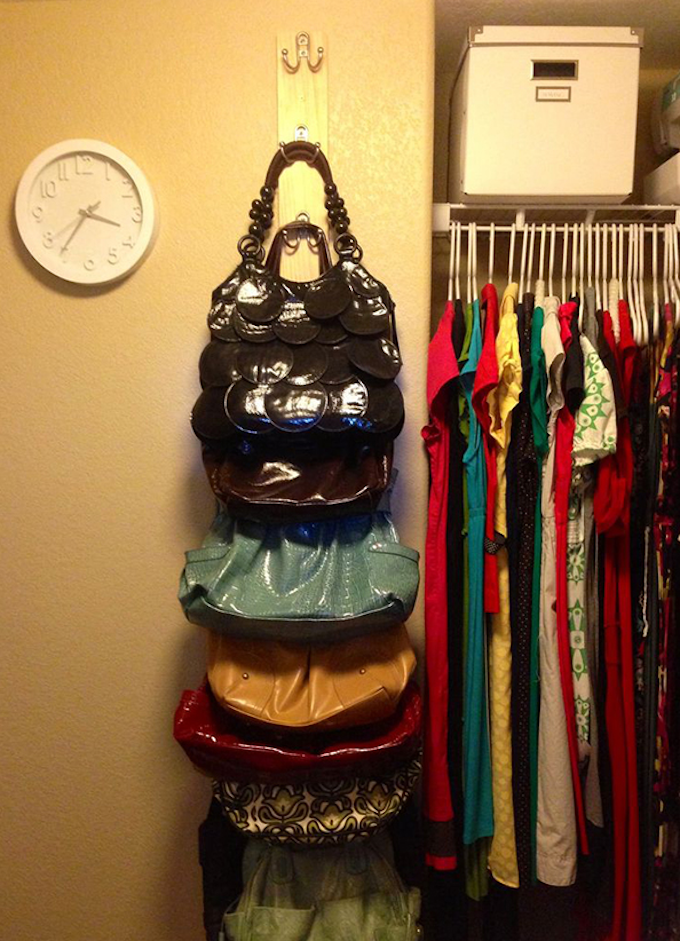 Accessories take up a lot of wardrobe space. Save space in your tiny bedroom by hanging a coat rack vertically and screwing in the hooks side ways (as pictured). For more ideas on how to store your shoes smartly check out my home hacks article: 32 incredibly clever ways to store shoes.
16. Organise cords with toilet roll tubes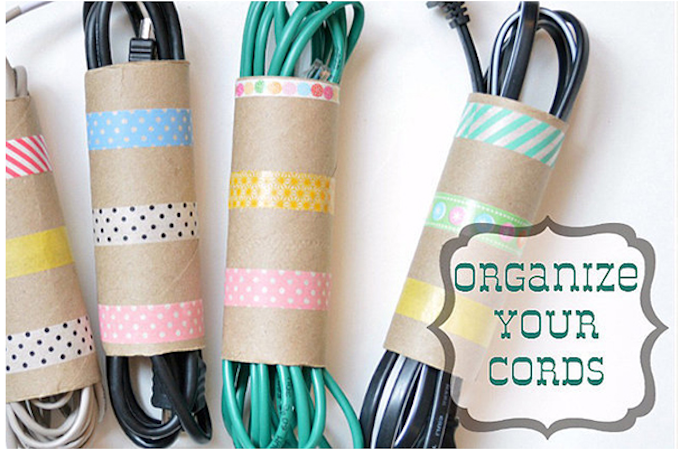 When you've got a small bedroom, it's important to create the illusion of space and keep areas clear of clutter. Cables look instantly messy so keep them organising by winding them up and keeping them in toilet roll tubes.
17. Use shopping bags to organise your smaller bits and bobs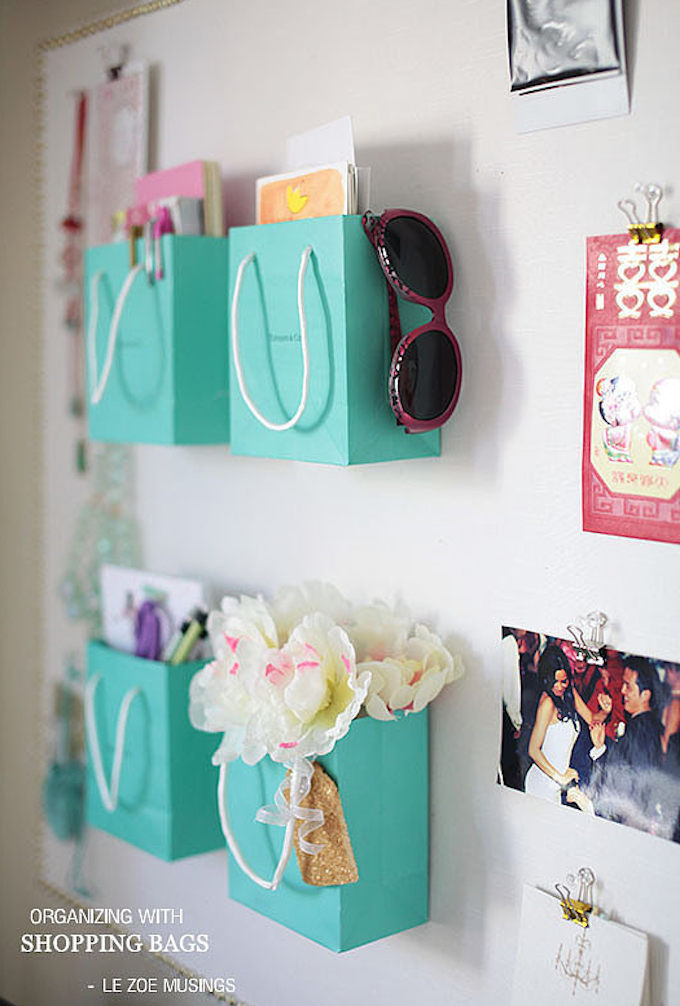 If you have some pretty shopping bags you just can't bring yourself to throw away, display them on a pin board and keep your smaller items like sunglasses, jewellery and papers organised.
18. Keep clutter baskets under your bed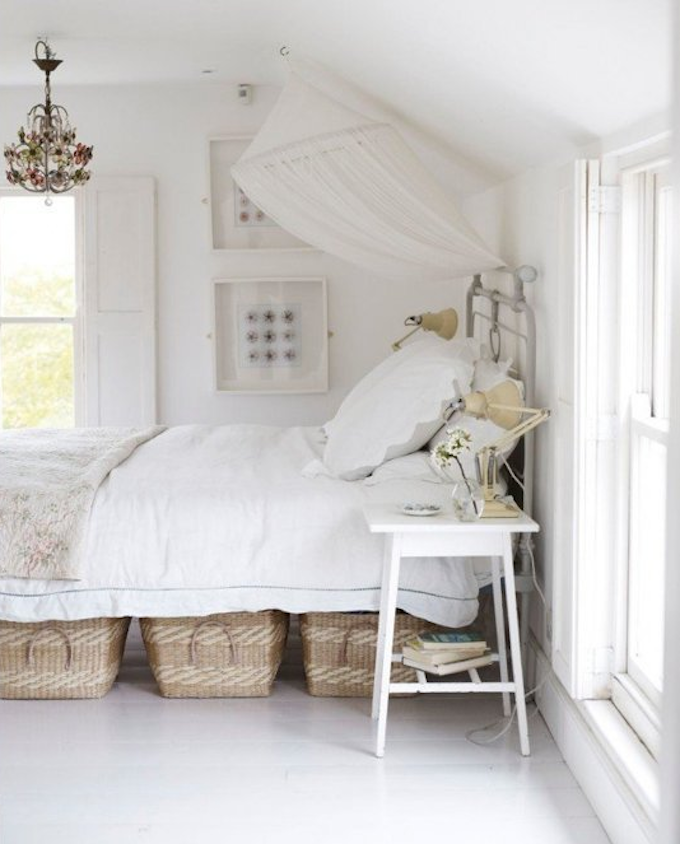 These pretty woven baskets look lovely underneath a bed. Store everything and anything in them, from shoes and clothes to general bedroom clutter that always seems to accumulate. Tesco direct have a great range of baskets.
19. Make use of high ceilings with shelves
If you have really high ceilings, shelves are the answer. If you can't quite get to them just make sure you invest in an aesthetically pleasing ladder that can also serve as a storage solution...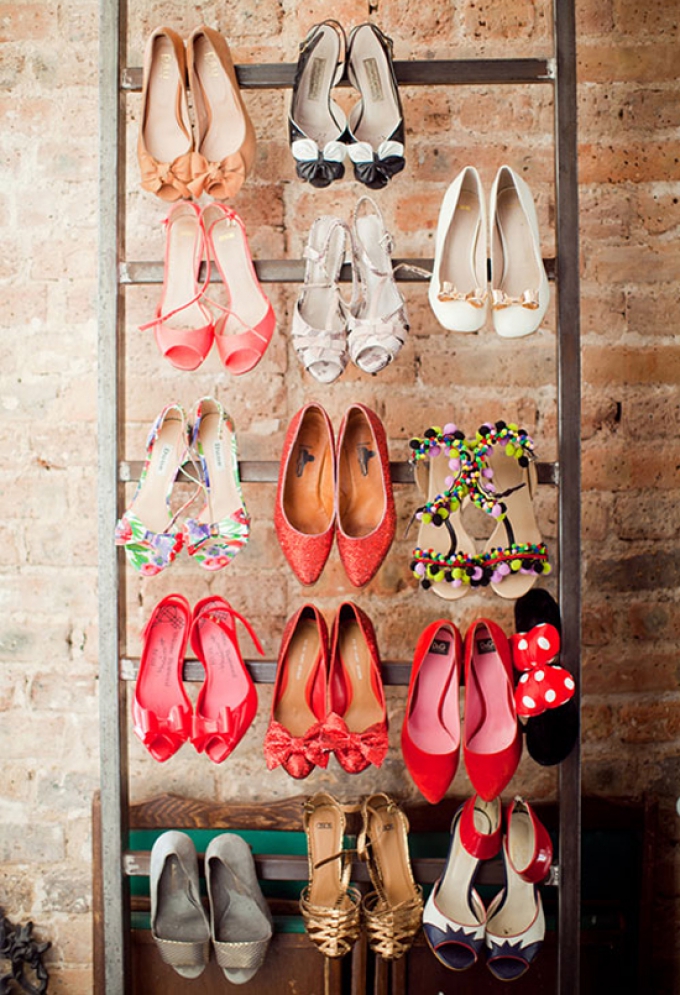 20. Discover single wardrobes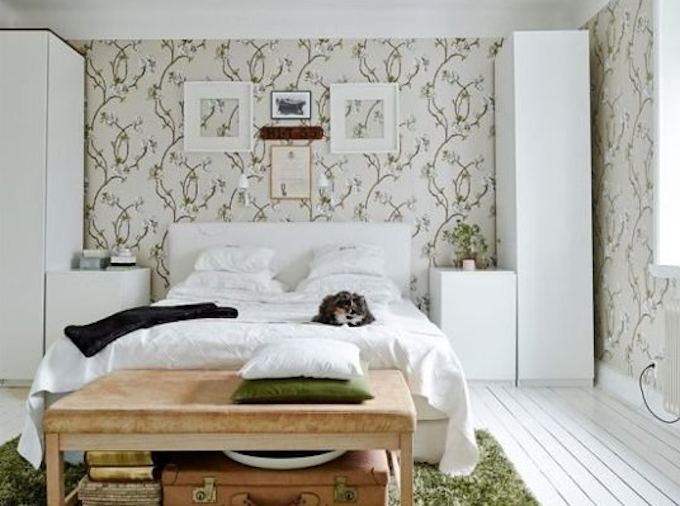 Your space may not allow for a full double wardrobe, but you might be able to work in two singles! They can frame a bed beautifully and help organise your clothing. These also work well in spare corners so make sure you check out Homebase for a selection of smart singles.
21. Use IKEA kitchen rails to hang accessories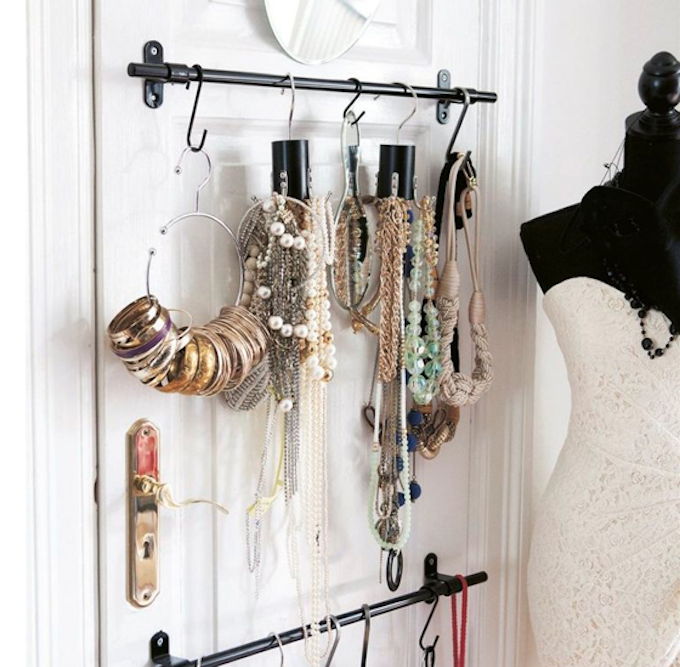 These rails are only £4 each from IKEA and not only do they save space on the kitchen worktop, but they can also be used as a towel tail and an accessories rack. Hang them up anywhere you have spare space and hang jewellery, scarfs and anything else that can be hung.
If your kitchen is small too, check out Colleen's 21 organisational hacks for your tiny kitchen.
22. Invest in a console table that double up as a desk and shelf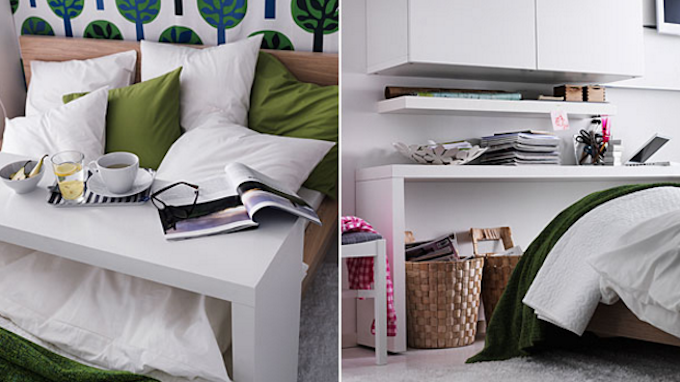 You can get this smart console table from IKEA. Use it as a desk, shelf and also a dining table for when you want breakfast in bed!
23. Splash out on a Murphy bed - the ULTIMATE space saver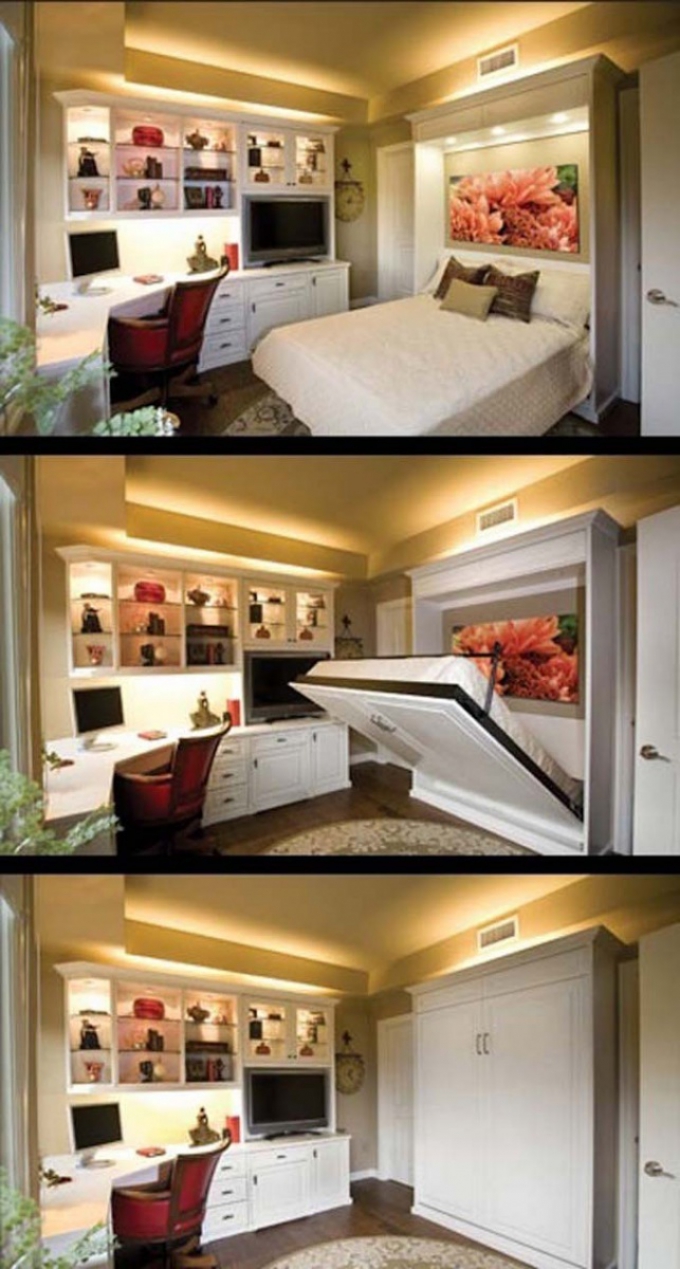 If every inch counts in your tiny bedroom or studio flat then my best advice to you is to invest in a Murphy bed. These fold-down beds are incredibly smart and save so much space during the day - you can totally transform your bedroom into a living space during the day. Check out Well Bed King.