18 ways to use vinegar in the laundry that will surprise you
White vinegar is a hugely efficient cleaning product, and can peform most tasks the same if not better than most household cleaners. It's cheap, natural and environmentally-friendly which makes it ideal for laundry - you can remove stains, fluff up blankets and clean your iron. Discover ways to use vinegar during your laundry now...
Before you continue, sign up to our newsletter to get great home hacks, living tips, competitions, offers and more.
Don't forget to follow us on:
Thanks!
Before you continue, don't forget to follow us on:
Thanks!
1. Get rid of underarm stains
Eliminate perspiration marks under the armpits of clothing by soaking them with vinegar before washing as usual. You can also get rid of solid residue from deodorants and body lotions by saturating the area in vinegar before laundering as usual. This will also remove any lingering smells too!
2. Deep stain removal on collars and cuff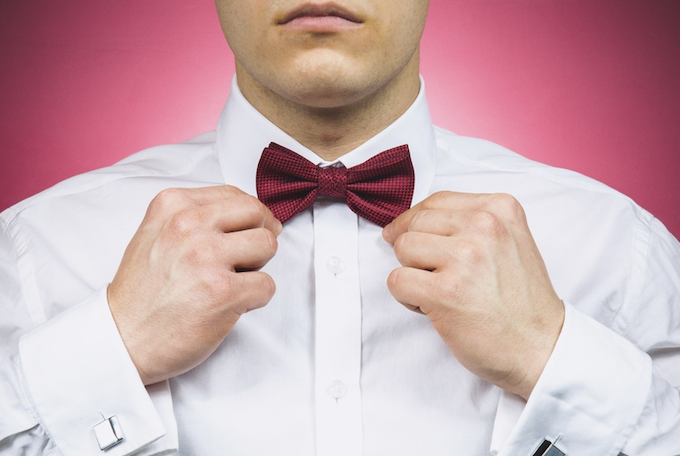 If the hot weather is leaving sweat stains on your shirts and other tops, make a homemade stain remover by stirring in spoons of vinegar to bicarbonate of soda until it form a thick paste. Rub it into the stains before chucking it in for a hot wash.
3. Clean cloth nappies & prevent nappy rash
Neutralise the urine in soft cloth nappies and by soaking them in a bucket with a solution of 1/2 pint of vinegar and 9 litres of water. It also helps prevent staining! If you wash nappies in the washing machine, add 1/2 pint of vinegar before the rinse cycle to equalise the pH balance which is said to help prevent nappy rash in babies who wear cloth nappies.
4. Cut down on lint in your laundry
Another great reason to pop vinegar in the rinse cycle of your washing machine is that it helps reduce the amount of lint after laundering. For an average load of laundry, add 1/2 a pint of vinegar into the rinse cycle and you'll hopefully experience less lint.
5. Reduce stiffness in new jeans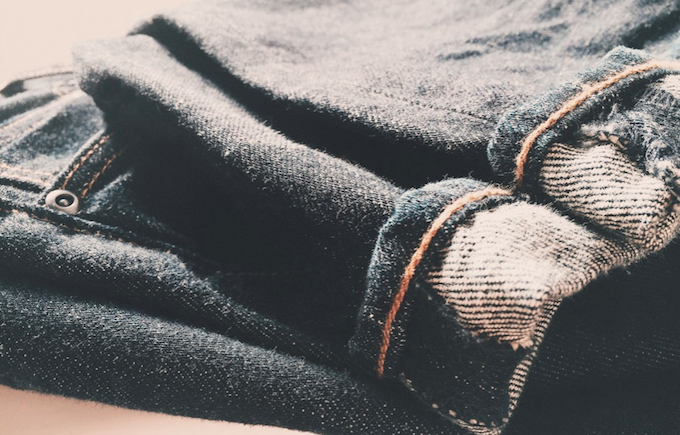 Vinegar is a great fabric softener. Turn your new jeans inside out and add 1/2 a pint of vinegar to the wash - your jeans will be nice and soft when they dry.
6. Remove white marks in hemmed clothing
Have you ever noticed a white line when you let down the hems on clothing? You'll often find this where the fabric was turned up and creased. You can remove this by taking a toothbrush and dipping it in a vinegar diluted with water and scrubbing the mark. Put your iron on a low heat and gently press the mark, it should lift out but if not repeat until it disappears.
7. Prevent colour run
If you fear a piece of clothing might run in the wash, pour a small cup of vinegar in the washer along with cold water.
8. Prevent fading in coloured towels and bed linen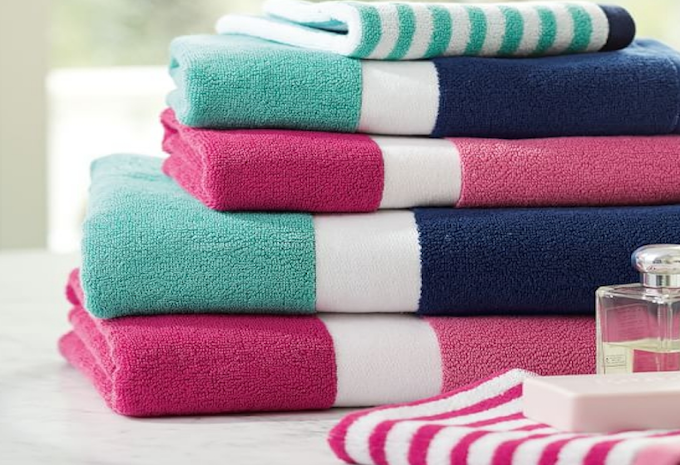 Add 1/4 of a pint to your washing when you're cleaning brightly coloured towels and linen to prevent colour run and fading. Precious items like handmade blankets can be soaked in cold water and vinegar before hand washing.
9. Refresh your ironing board
Save your money when it comes to buying a fabric freshener or odour eliminator! Simply pour some vinegar into a spray bottle and while your ironing cover is still damp, liberally spray it with the vinegar. Don't worry about your ironing board smelling like vinegar, when it's dry it won't smell.
10. Remove shiny marks left on your clothes from ironing
Shiny spots on fabric caused by ironing are so annoying and can ruin a piece of clothing. Vinegar to the rescue! Pour a solution of half water and half vinegar into a spray bottle, and whilst ironing use the spray intermittently until the shiny marks lift off.
11. Make your blankets soft and fluffy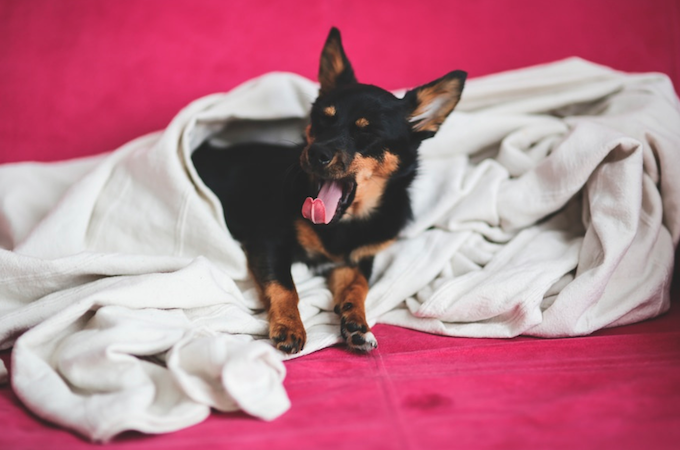 If you have a new baby, puppy or just want super soft blakies, add a pint of vinegar to a bathtub of water and soak your cotton and wool blankets in it. Put it through a rinse cycle afterwards without any washing powder and they should dry nice and soft.
12. Remove grease from suede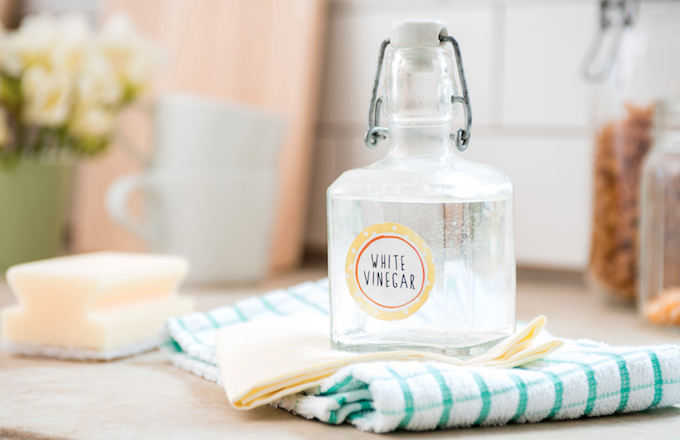 Grease spots on suede are so annoying and can ruin the look of suede! Don't despair, grab your trusty bottle of vinegar and dip a clean toothbrush into it. Use it to gently brush over the stains with the vinegar and when it's dried it should look much better. You can repeat the process a few times.
13. Get rid of the smell of smoke from clothes
There's nothing worse than the lingering smell of stale cigarette smoke on your clothes. If you can still smell it after washing, you need a vinegar bath for your clothing. Pour half a pint of vinegar to a bath of hot water or a large tub, and hang your clothes above the steam. Leave it overnight with a window open and by the morning your clothes should smell a lot fresher.
14. Steam clean your iron
Mineral deposits can build up in your steam iron over time affecting the efficiency. Remove the deposits by filling it with a solution of equal parts vinegar and water and letting it steam until dry. When this has been done, rinse the tank with clean water, refill it and shake the water so it comes out of the steam holes over a sink or old piece of cloth.
Note - this method should not be done on new irons (where there are no mineral deposits present) and the acidity could damage it.
15. Clean the base of your iron
Make a paste of vinegar and baking soda, before applying it with a damp cloth to the plate of your iron. It'll be left clean, smooth and shiny in just a few minuted, and the paste won't damage your iron in any way.
16. Remove the overwhelming smell of beach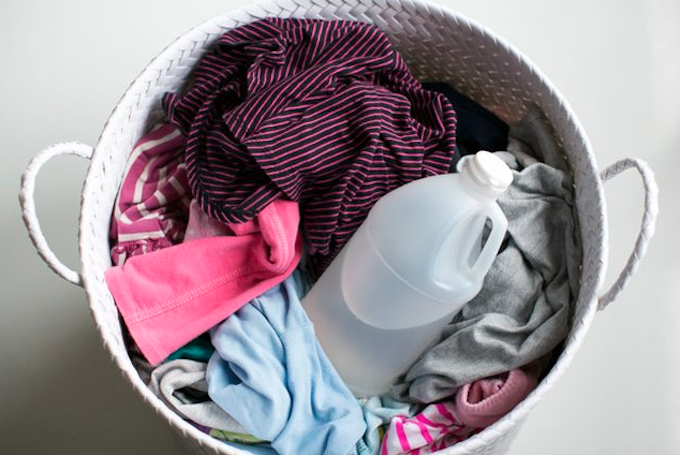 If you're afraid to use bleach to whiten your whites because of the strong smell it leaves, don't worry - vinegar can tackle that! Add half a pint of vinegar to the final rinse of a washing load and it will soon neutralise the smell.
17. Remove and set creases in clothes
You can use vinegar to not only set new creases but remove them also. It's really easy to do, simply iron them in or out with a pressing cloth soaked in a solution of 1 part vinegar to 2 parts water. You might be worried about the strong smell, but the scent of vinegar soon leaves clothing after they've been aired.
18. Remove Cola stains from cotton
Cola stains on white cotton might seem like an undefeatable stain but always try vinegar first before you disregard the item. It can be used to tackle stains on both pure cotton and cotton polyester mixes. Take distilled vinegar and using a sponge, directly apply it to the stain and gently rub at the stain then wash according to the washing instructions. This tip is more likely to work if you do it within 24 hours of the spill.
Thanks for reading! If you have any tips on how to use vinegar to effectively clean your clothes and for use in other laundry tasks, let me know in the comments section below - Anushka