If you've got a Halloween fancy dress party to attend and you haven't got the funds to order a ready-made costume, don't be spooked - we've got some brilliant costume ideas for you...
Before you continue, don't forget to follow us on:
Thanks!
1. Pop art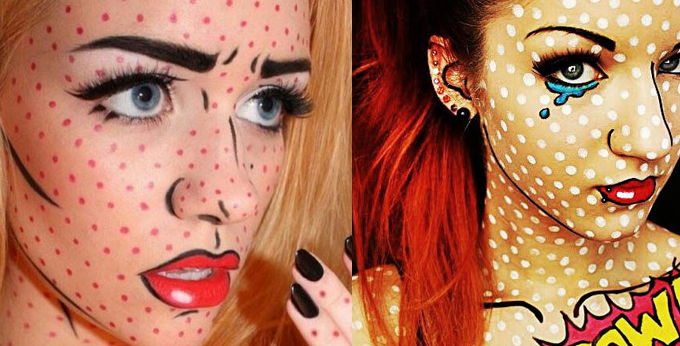 - you need make-up or face paint.
Become pop art by dotting colour around your face - it really is that simple! If you've got a brightly coloured wig to hand, then this can jazz your whole outfit up.
2. God's gift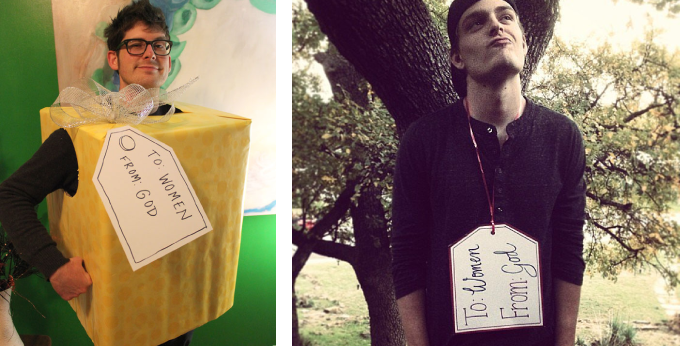 - you need scissors, string, pens & cardboard.
It's up to you how much effort you put in with this costume, but at the very least make yourself a nice big tag saying "To: Women, From: God." If you have a big cardboard box hanging around, wrap some wrapping paper around and wear it too.
3. Mad Hatter's Tea Party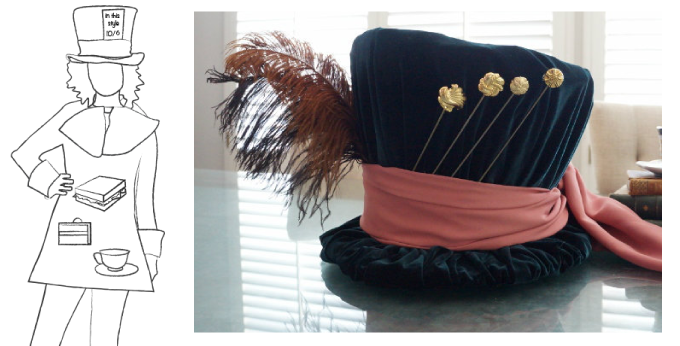 - you need scissors, felt tips, an old sheet, cardboard, duct tape & a pencil.
First things first, make a Mad Hatter's Hat out of cardboard following the instructions at diyInspired.com. Grab your sheet and put a hole in the middle of it, big enough for your head to fit in, then work out where you need to cut arm holes. Finally, grab your felt tips and start drawing - cakes, sandwiches, cups of tea - anything you like.
4. Noel Edmonds "Deal or No Deal"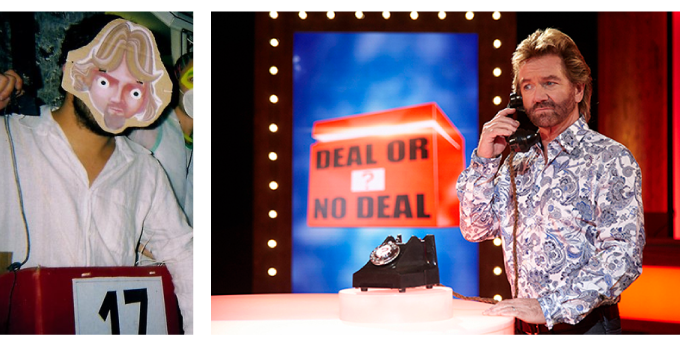 - you need a large cardboard box, glue, scissors, string, paint & paper.
Print out a Noel Edmond's face and attach it to some cardboard. Poke two holes in either side, then use some string to create a mask. Paint your cardboard box bright red and print out any number from 1 - 22. Attach strings on either side, so you can wear the box hanging from your shoulders. Wear a Noel Edmonds style shirt and your costume is complete.
5. Paper doll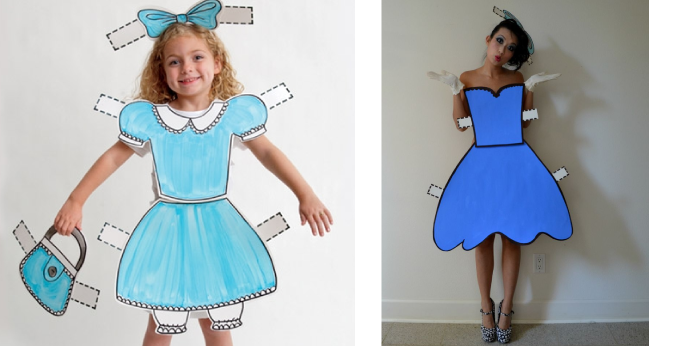 - you need cardboard, string paints & pens.
This is a super-easy costume idea, all you need is a bit of imagination! Cut out a cardboard dress with the sticky tabs on the outside and tie it around yourself with a string.
6. Medusa

- you need plastic toy snakes or pipe cleaners.
With a flowy white dress and some plastic snakes in your hair, you can quickly become Medusa, or if you can't find any, shape some pipe cleaners into snakes instead. If you want to do your make-up just like the lovely lady in the photo on the right, check out the instructions at everSoJuliet.com.
7. Avocado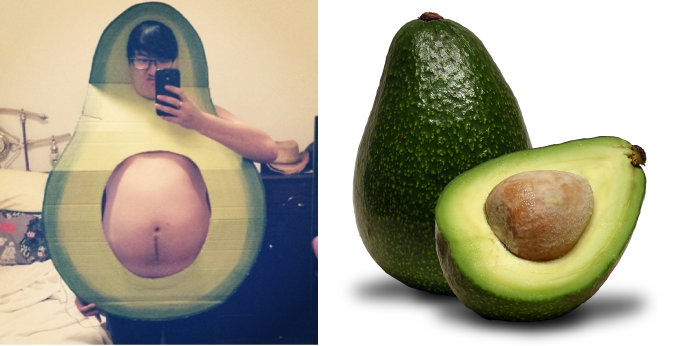 - you need cardboard, paint & a brave belly.
Using a large piece of cardboard, cut out an avocado shape and cut holes for your face and your belly. Simple.
8. Bubble bath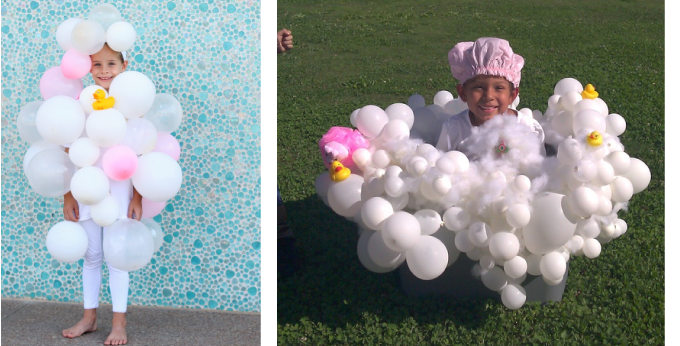 - you need balloons, rubber duck, headband & a white outfit.
This is a brilliant and easy costume for children and adults alike. Make your own DIY Bubble Bath Halloween costume by following the instructions at gigglesGalore.net.
9. Facebook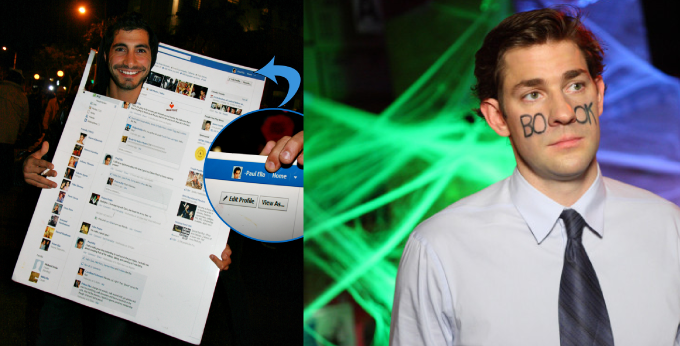 - you need a pen, or a cardboard of a profile page.
Be a Facebook profile page! Print out or draw yours (or someone else's) Facebook page and stick your face through the profile picture hole. If you don't want to go to all that trouble, just write 'BOOK' on your face a la Jim from The American Office.
10. Scaly skin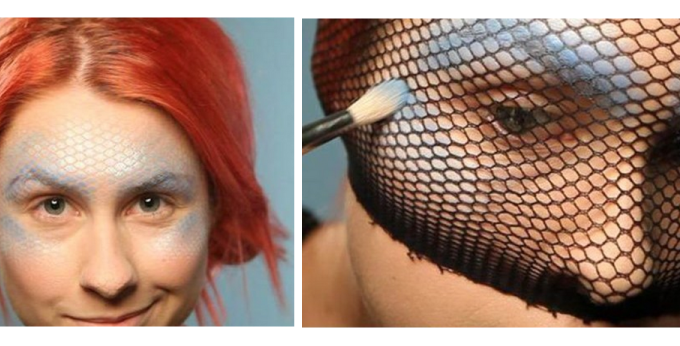 - you need face paint & a pair of fishnet tights.
This is a great base idea for a snake, fish or anything you can think of that has scaly skin! Using a pair of fishnet tights and some face paint, you can create the amazing effect you see above.
11. Fifty Shades of Grey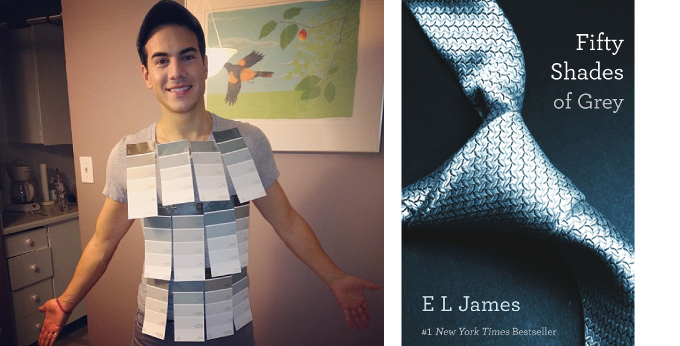 - you need paint colour charts.
The prize for the least effort will go to this costume. Head to your local paint shop or DIY store to pick up grey paint colour swatches and pint them to yourself. See if anyone gets it.
12. Twister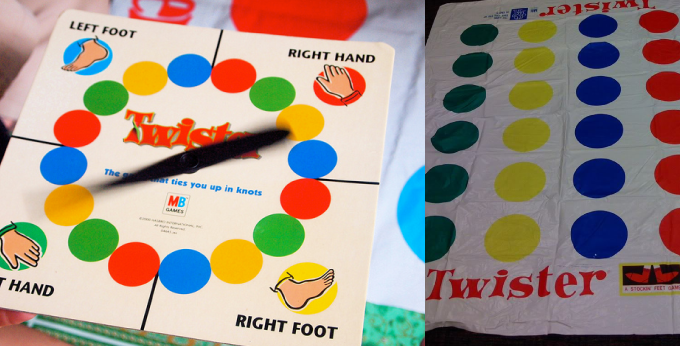 - you need scissors, an old white t-shirt, paints & cardboard.
Paint coloured circles onto an old t-shirt, just how they are displayed on a Twister mat. Cut out a square of cardboard and draw a Twister board on the front to carry with you. Easy!
13. A Sim character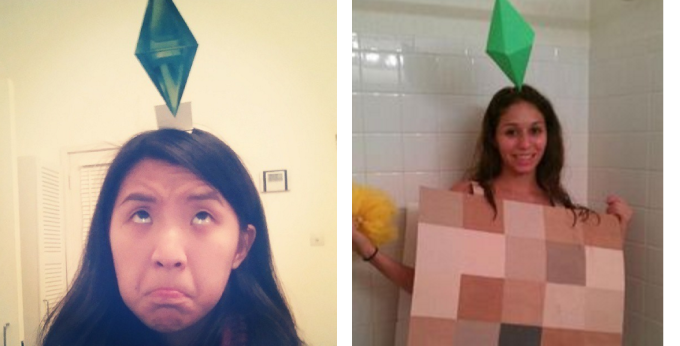 If you're into the Sims then this is the perfect last-minute costume for you. Print out a copy of the Sim diamond shape and attach it to the top of your head using an old headband. If you fancy making a bit more effort, print out different colours and stick to a board to create the pixel effect when the characters have no clothes on!
14. Jellyfish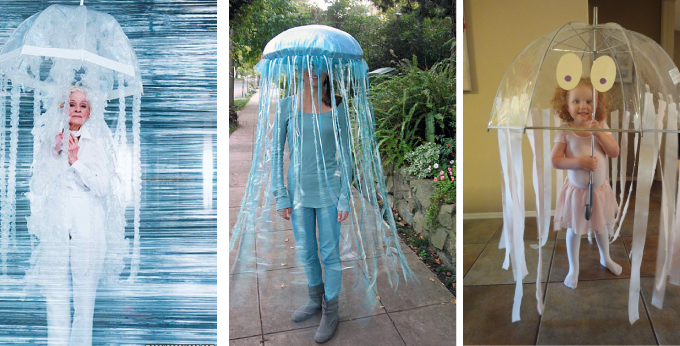 What you need to make these wonderful costumes varies, depending which you choose. For the outfit pictured on the left, check out marthaStewart.com and for the middle costume see homeArtsWithAngela.blogspot.co.uk. Finally, for the cute photo on the right, grab an umbrella and hang craft paper in strips from it - attach two eyes and you're done.
15. Your Tinder profile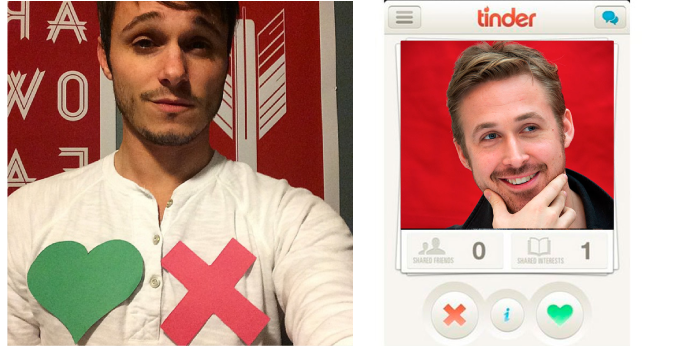 - you need scissors & cardboard.
This is a mega-easy costume that anyone can do. Grab some cardboard and cut out a heart and a cross, then stick it on yourself! If you want to, cut yourself out a white frame border for your face.
Hope you've got some good ideas from our list! If you have ideas that you want to share, let us know in the comments below...