No headboard? No problem!
Finding and installing a headboard can be an expensive headache. Whilst headboards aren't entirely necessary, they are a great design feature that will visually anchor the bed to the wall.
Today we're sharing some of the easiest and most creative DIY headboard ideas out there, so whether you want to add one to your bed or upgrade the one you have, you're sure to find a style you love in the list below!
1. DIY a classic headboard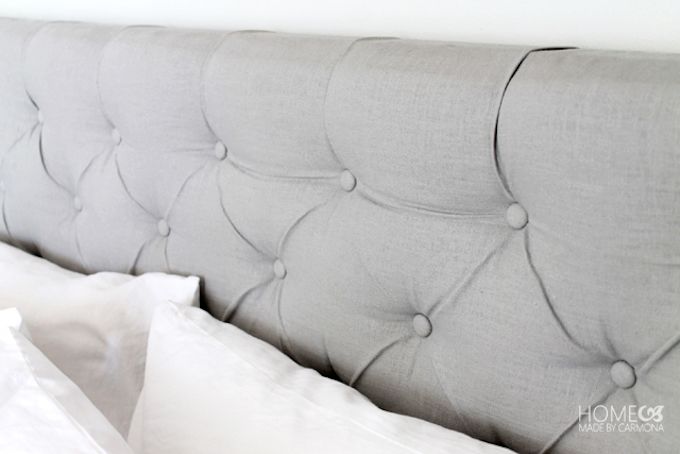 If you like the classic cushioned look, it's easier than you would think to craft your own fabric headboard - even with very limited skills, time or tools!
You can take an existing headboard and reupholster it - or build your own by having plywood cut to size at your local hardware store. With a few nails and decorative buttons, achieving the padded design couldn't be simpler.
We absolutely love Home Made by Carmona's DIY Diamond Tufted Headboard and know you will too! Head to her blog for the step by step guide.
2. No-drill headboards that won't damage walls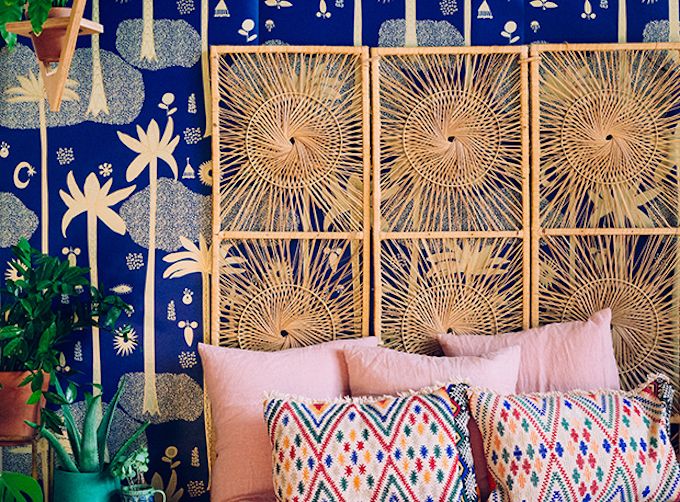 A big problem with headboards is that they usually need to be mounted onto a wall. This can be a hassle if you are renting or if you like to change your style regularly. To fix this problem, Jungalow transformed a thrifted screen into a non-traditional headboard.
Using a screen or room divider behind your bed is the perfect solution. It folds up for easy transport and storage and if you no longer want to use it as a headboard in the future, you can repurpose it for its intended use.
Room dividers come in various sizes and colours - perfect for the dimensions of single, twin, double, queen and king size beds!
All you need to do is find a screen that suits your style and lay it flat against the wall, with the bed base holding it in place. Prop up some complementary cushions for added comfort.
3. One for the bookworms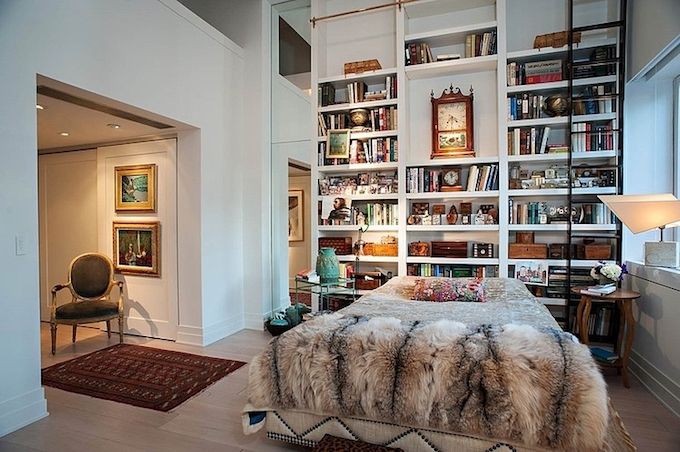 Bookcases are a great solution for a headboard because they give you so much additional storage! They come in all shapes and sizes, so finding one that fits your bed will not be a problem. Home Adore takes an already existing built-in bookcase and uses it as a headboard.
The shelves covered by the bed can be used for storing seasonal items such as clothing or holiday decorations. You can access them when you need to, but they are otherwise out of sight. Let the bookcases take up the entire wall for the illusion of an expensive, custom built-in design.
As well as using the shelves for storage, be sure to accessorize with objects that match your bedroom and sheets. Don't go too crazy - you don't want your room to look chaotic.
If you're planning to use this as a solution in a child's bedroom, take care to secure the bookshelves; they make a tempting ladder and could fall forward.
4. Upcycled wood pallets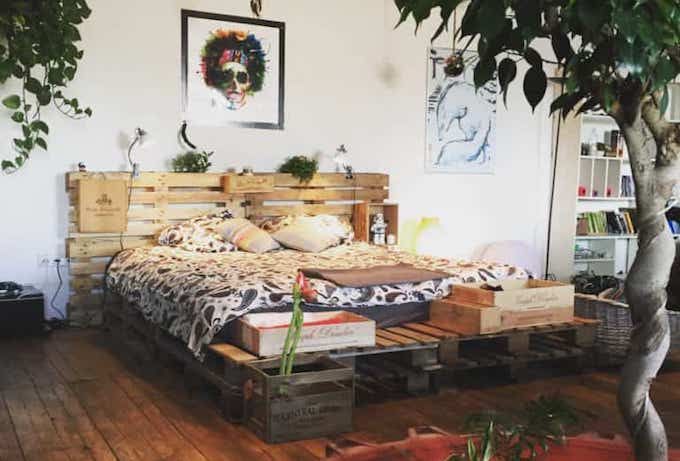 If you are environmentally conscious, you might want to try to upcycle wood into a headboard. These can be free-standing or wall mounted.
1001pallets
reclaimed pallet headboard and bed frame is the perfect bit oinspiration. We love how rustic and boho it looks.
5. Get painting!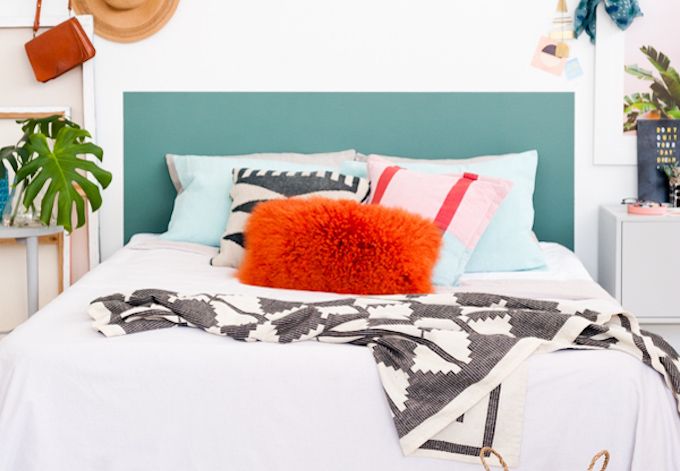 This one isn't very renter friendly, but can be budget friendly.
Find some paint in a contrasting colour to your walls and apply in a rectangle - or any shape you fancy - around the head of your bed.
Paper & Stitch made their painted headboard in just one hour!
6. Chalkboard headboard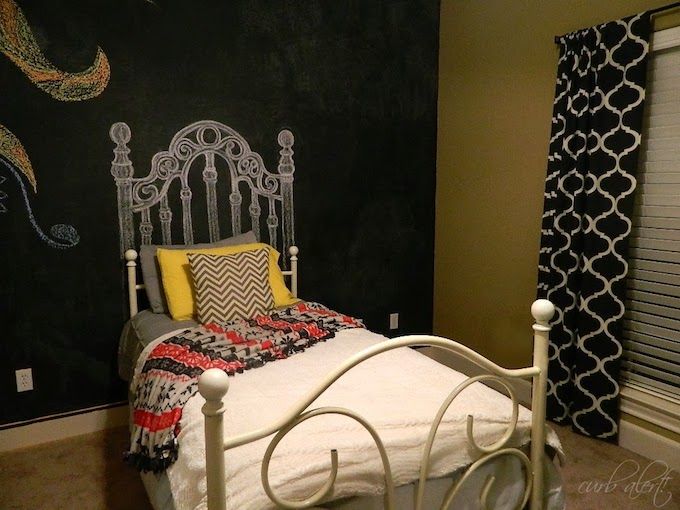 You can even try chalkboard paint, like Curb Alert did, and draw on a fabulous design which can be changed over and over again.
This idea is great for children's bedrooms, especially as it doesn't involve mounting any furniture to the wall. Let their creative minds run wild!
7. Create a statement with wallpaper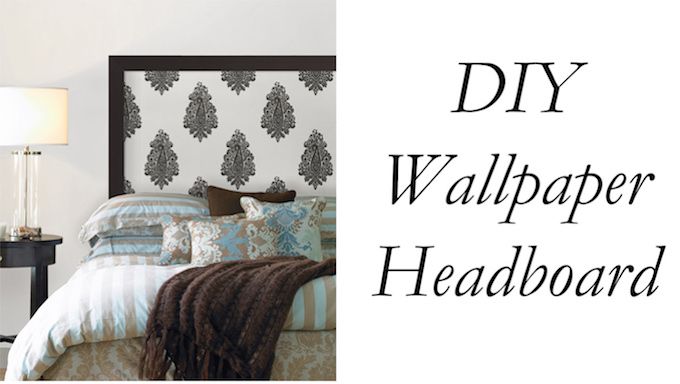 Something as simple as a contrasting, statement wallpaper can be used to create a feature headboard in your bedroom.
Brewster Home has the perfect use of wallpaper with a luxurious DIY headboard.
8. Curtains & tapestries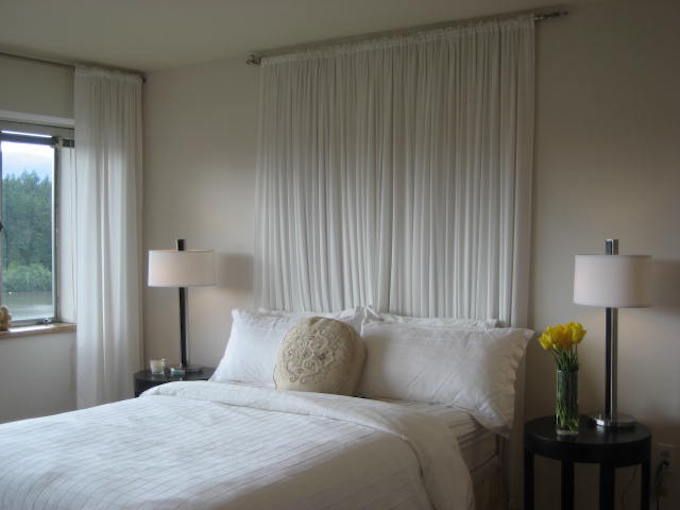 Curtains and tapestries look dramatic and dreamy. Use either a standard curtain rail mount or hang with damage-free sticky hooks.
Place the curtains or tapestry higher up on the wall for a statement look or closer to the bed for the illusion of a standard headboard. It's also great for hiding anything unsightly on the walls.
9. Opening some new doors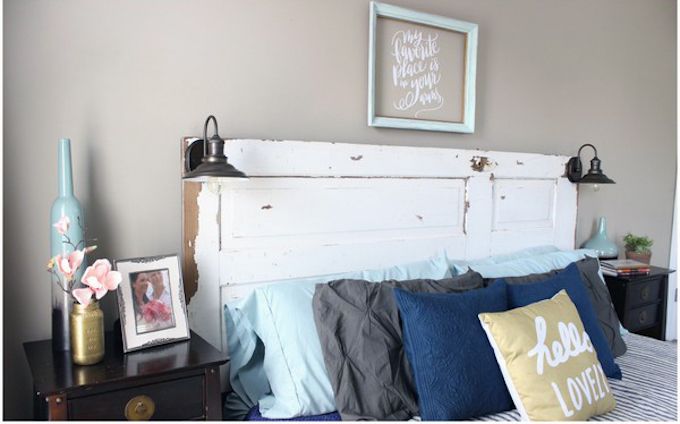 We think By Dawn Nicole's headboard is both genius and thrifty! Take an old wooden door and turn it on its side. Add decoration and distress the paint job for a stunning shabby-chic headboard.
This DIY works especially well with antique or old wood.
10. Get cosy with a fireplace mantel headboard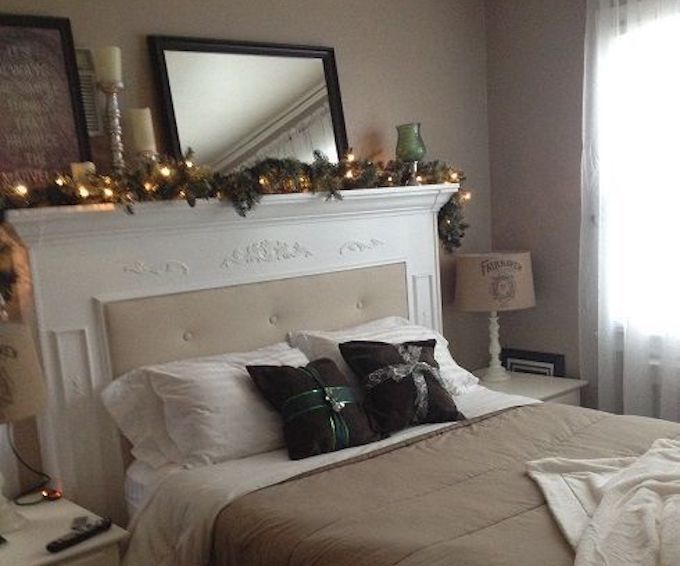 You might already have a fireplace in your bedroom that is taking up valuable space. Simply place the bed frame in the alcove and you have a beautiful headboard. This design can also be achieved by upcycling a mantle and attaching it to an existing wall.
Amy at Home Talk made a faux fireplace out of cheap plywood to get her dream headboard at a fraction of the cost.
11. Picture perfect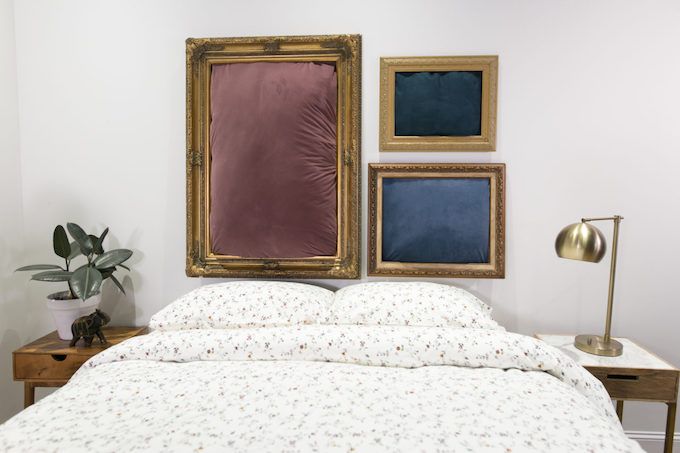 We love a gallery wall here at Expert Home Tips. Adding one to the space above your bed creates the illusion of a grand headboard, and it's totally customisable too! So whether you like grand or minimalist frames, you'll be able to style this one to suit you.
Mr. Kate has a genius "do it yourself" tutorial for framed pillow headboards. See the full video tutorial here, with 3 more amazing DIYs:
12. Why not upcycle shutters?
Some painted, distressed shutters are another great idea for achieving the shabby chic look.
Ginger Snap Crafts at Home Talk show us just how easy it is to turn some shutters into a rustic headboard.
13. Unleash your inner artist with a large canvas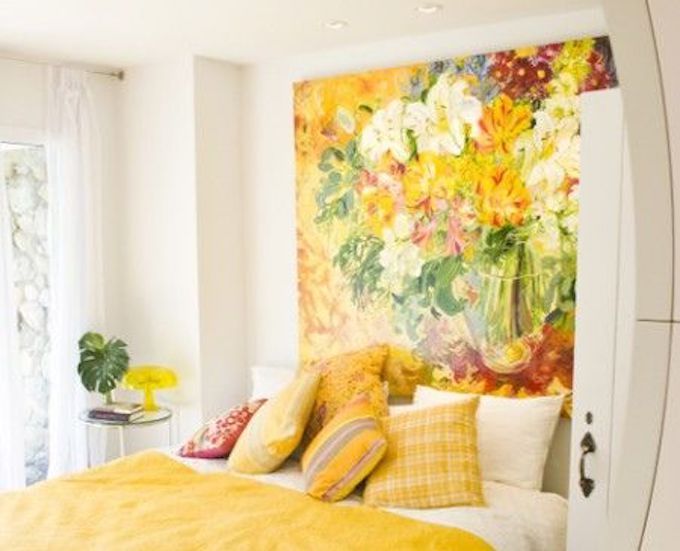 Find the biggest canvas you can get your hands on and turn it into the ultimate headboard.
You can take a used or printed canvas and give it a plain coat of paint for a minimalist design. If you are a bit more adventurous, you could paint your very own masterpiece, just like in this example from Zesty Nest.
14. Ikea hack
Tasha Leelyn has found an ingenious IKEA hack, turning a pretty plain STOCKHOLM tabletop into a stained headboard. We wouldn't want to leave that bed!
Check out the video for a full tutorial on how to achieve this easy DIY!
You don't have to use this EXACT table to do this. See what you can find in your local second-hand shop and go from there.
15. Not just for your recycling bin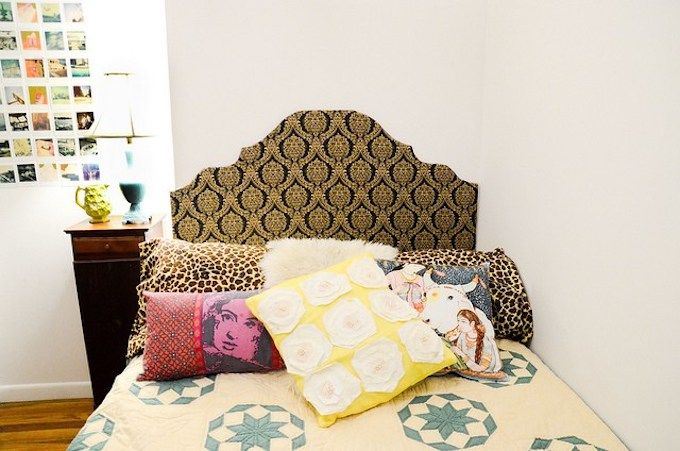 Stacie at Stars For Streetlights has the perfect solution for those on a SERIOUS budget. We can't believe how realistic this cardboard headboard looks!
This would be a great craft to do with kids and would look great in their rooms. They can take pride in having made their own headboard and they can pick out a fun print to decorate it with.
16. Go basic with a branch & string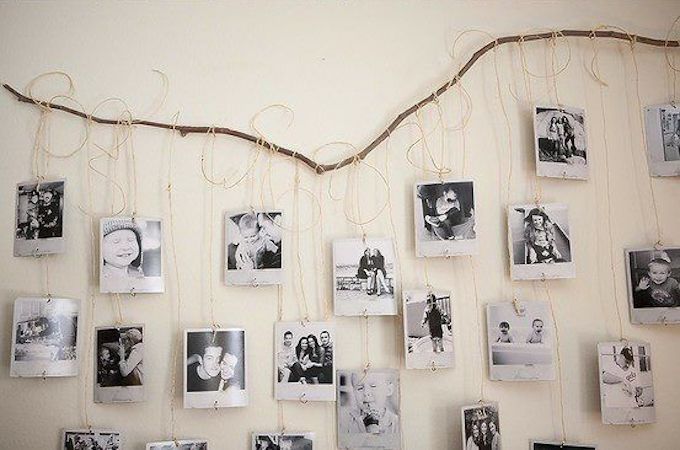 Another really easy one that Digital Mom has shared on Pinterest can be adapted with damage-free hanging hooks.
Find a branch or a pole and attach it to the wall. Then, use string, twine or ribbon and hang polaroids off of it using clips for a minimalist but super-effective result.
17. Try this dreamy, floral headboard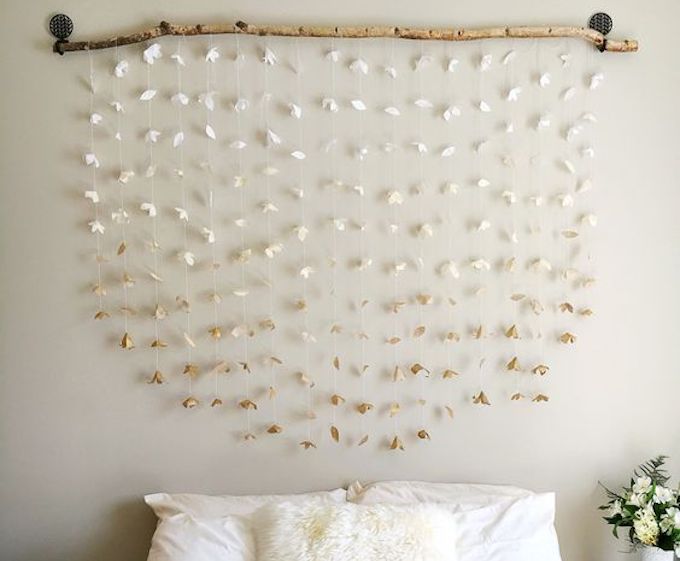 Amanda Puleo hangs paper flowers in her take on this whimsy DIY. This is one of the cheapest to DIY as everything can be found around your house - and outdoors!
18. Have you thought about trying tiles?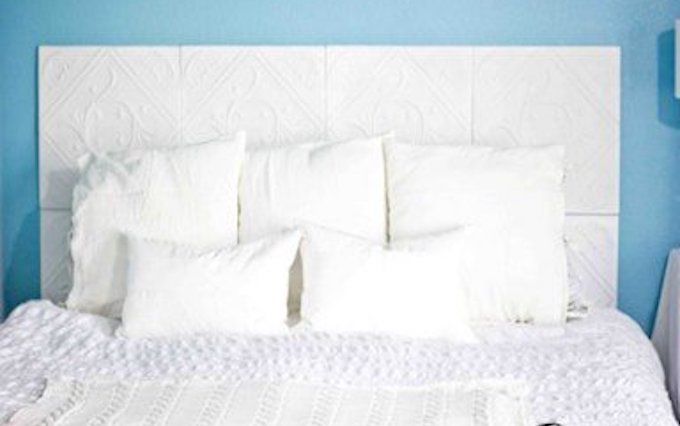 Sweet C's has opted for a luxuriously tiled headboard that's surprisingly affordable
How did she do it? By using foam tiles! This kept the cost right down whilst still achieving impressive results. It looks pretty comfy too.
19. Create a faux headboard with lights
Are you looking for something cosy and romantic? No need to splash out on bedside lamps, this icicle light faux headboard will help to set the right mood.
20. Doormats aren't just for walking over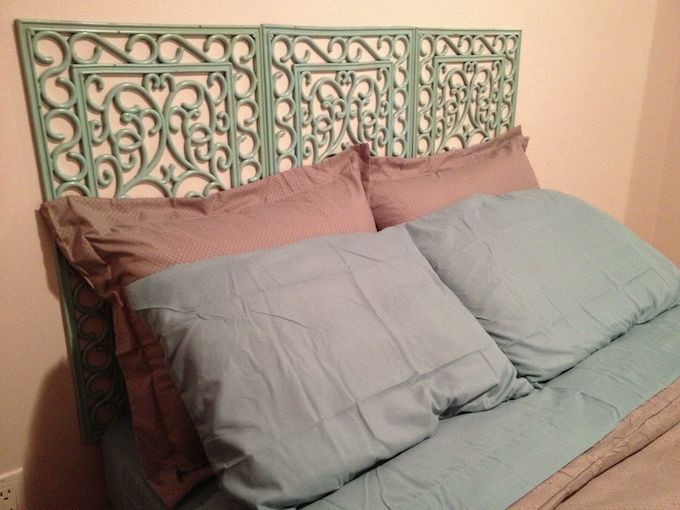 Surely not? Well, yes!
These rubber doormats, upcycled by I Heart Dartmouth, look just like ornate ironwork. Customise in any colour of your choosing and hang with a few nails or hooks.
21. A garden sanctuary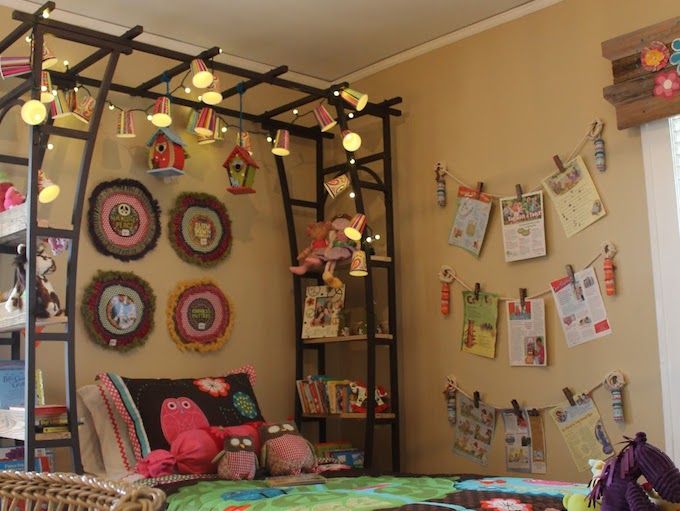 In the same way as you can with a door, turn a panel of garden lattice on its side and you have the perfect headboard to decorate however you please.
We also love Hammers and High Heels' idea of using an outdoor wooden arch as a modern canopy. It's perfect for adding storage without committing to a built-in unit.
22. Industrialise with a metal grid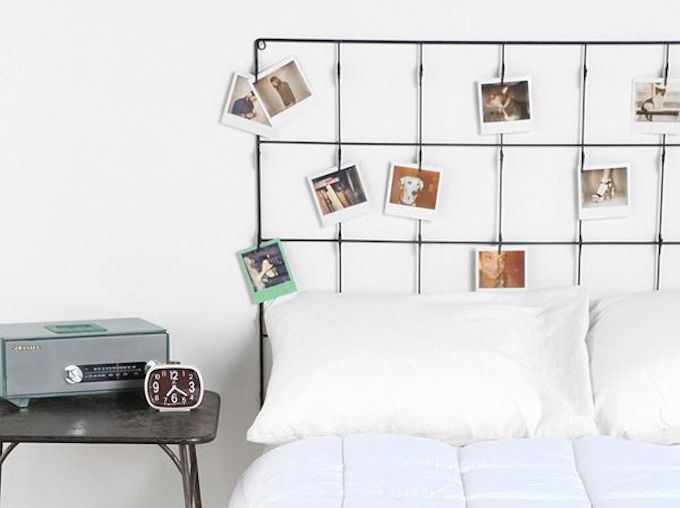 Metal grids are the new notice boards, but could they also be the new headboards? This one by Urban Outfitters may be sold out, but finding a piece of metal grid is pretty easy and affordable when it's not branded as a headboard.
We found an affordable metal grid on Amazon that would be perfect for a DIY.
23. Find a beautiful shower curtain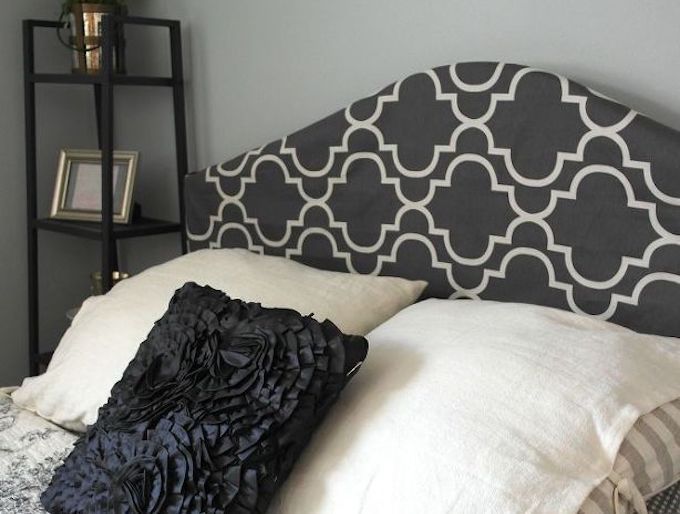 If you want to cover up an existing headboard, a shower curtain works surprisingly well.
See how Sypsie Designs at Home Talk did it here.
24. Hideaway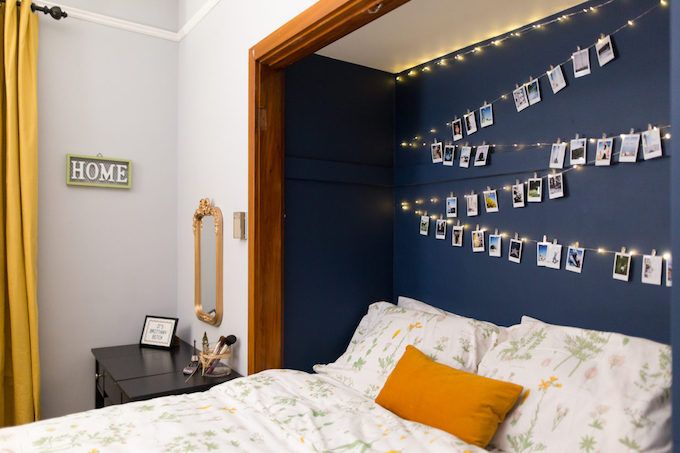 Another idea from Mr. Kate is to position your bed inside of a cupboard or closet (removing the doors first of course!)
Kate painted the inside of the closet and draped twinkly lights to brighten up the area. The frame of the closet gives the impression of a grand, winged headboard that we love.
Which DIY headboard idea would you like to try? We'd love to hear from you in the comments below!